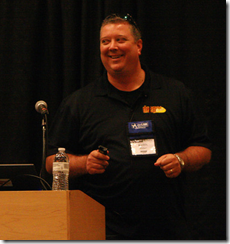 Saturday evening I arrived back in Hattiesburg after spending a week in Chattanooga, TN and the DevLINK Technical Conference. I had a blast at DevLINK. Here's a recap of the week's activities.
Live Radio
Thursday evening John Kellar (DevLINK Chairman), Todd Anglin (Telerik) and myself were on the local radio station 95.3 WPLZ as guests on "You're Live" which is a weekly technology radio show in Chattanooga hosted by David Karnes. This was a very cool experience as I had never gotten to do live radio before.  The show was an hour long and I have to say it went by in what seemed like literally 10-15 minutes. After the show aired they gave us a recording of it. I took the recording and took out the blanks where the commercials were and uploaded it to this site. You can listen to it here:
http://keithelder.net/Presentations/DevLINK2011/08-18-11-YoureLiveDevLINK.mp3 
Friday's Keynote
Friday evening I gave the closing keynote speech for DevLINK entitled "What Software Developers can Learn from Forrest Gump". I know… it is a crazy title for a talk to give to a bunch of developers. But you know what? I think I pulled it off, crazy or not.
I thought about posting the slide deck with this post but honestly I don't think it would do anyone any good without the commentary and stories that go along with it (especially the stories). I can honestly say that just reading through the slides would have zero impact (trust me on this one).
What I will do though is give you a link to the two books I mentioned during the talk.
http://www.amazon.com/Influencing-Integrity-Management-Communication-Negotiation/dp/0933347103
http://www.amazon.com/Got-Sales-Lenann-McGookey-Gardner/dp/0977272052/ 
Thanks to all of the volunteers that made DevLINK awesome and thanks to "Sing it or Wing it" for letting me sing Karaoke Friday night. See you next year!
Funny Tweets from DevLINK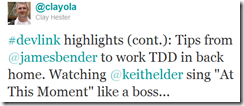 (this one isn't true but funny, references something I said in the keynote)