Last night I was driving home and saw something run out in front of the truck.  Turns out it was a very young Chihuahua puppy. He ran up under the truck and I spent the next few minutes trying to coach him out with no luck. 
Finally some neighbors that live down the street stopped to help.  But then again we couldn't get him out.  Ellen (wife) drove by and we decided we could get him out with some food.  Long story short after about 20-30 minutes we finally got him out from under the car. 
Without any further adieu I give you TACO!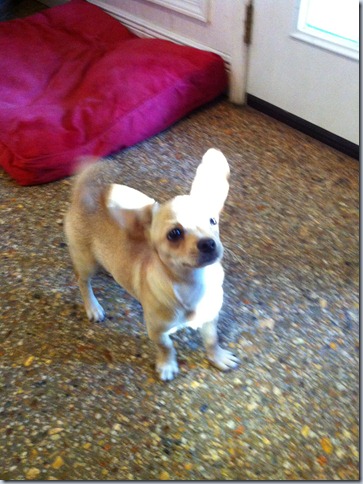 The poor guy was just scared to death.  I can't blame him, he's only a few inches tall.
I brought him home and gave him food and water and watched over him as he didn't want to leave my side.  Last night he spent the night in my bathroom. 
This morning Taco and I took the trash out and I showed him the best spots in the yard to use the bathroom.
I'm not sure what we'll do with him if we can't find his owner (I honestly think someone dropped him off), but whatever it is it Taco will have a better life.
"Then shall he answer them, saying, Truly I say to you, Inasmuch as you did it not to one of the least of these, you did it not to me." Matthew 25:45
Update – 10:27AM Oct. 7th
It didn't take Taco long this morning to start running the kingdom.  He has officially taken over.  He managed to overthrow the other two dogs without a fight and take their bed.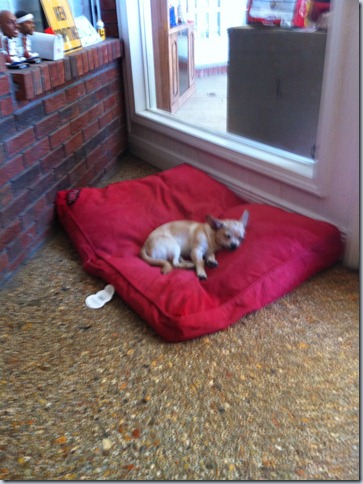 The other dogs retreated under my desk to take watch to see what Taco's next move was going to be. 
Update – 12:27PM Oct. 7th
Taco is a dog of compassion.  He thought about it for awhile and came to the conclusion it wasn't fair for the other dogs who were here first. Thus he allowed them to come back and rest.  But only if they gave him the best spot.