Posted by
Keith Elder

| Posted in Mobile Devices | Posted on 30-11-2004
Since bluetooth has been around I have owned now three different bluetooth headsets. My first one was a Sony HBH-30. I used it with one of the first bluetooth phones to hit the market, the T68i by Sony Ericson. To be honest, I probably wouldn't have gotten one if it wasn't for Hotelling, I blame him for making me switch to the evil empire that was ATT (the gps location was cool though). After getting away from ATT because of horrible service, I went over to Sprint where I acquired a T608 Sony Ericson which also got use out of the HBH-30 (do you see a Sony infatuation forming here or is this just me?). Then one day, the HBH-30 stopped working, completely 100% dead. By this point, I had had the HBH-30 for quite sometime so I figured I'd swap it out for a new model. This is where the Jabra 250 enters the story. After about a month of use, the Jabra quit. A few things about the Jabra 250:
It took about a month to put the thing on.
The buttons were in the wrong place.
I didn't like the little plastic ear thingies. ( I don't think they actually have a name)
Sound quality was horrible and the distance was litterally about 3 feet. I honestly found myself holding my phone trying to get it close to the headset at times (not the same with the hbh-30).
So after I finally started figuring out how to put the thing on without too much fuss, one day, it decided to just die as well. Remember this was about a month after I bought it. Now any self serving geek would have called up immediately and got an RMA number. However, I already had my eye on the Treo 600 which didn't have bluetooth although it was rumored it would be provided through an SD upgrade. Since the Treo didn't support BT, I decided to just let the Jabra sit, I had plenty of time to send it back and I didn't have a use for it with the Treo anyway.
Sony HBH-30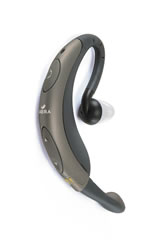 Jabra 250

Motorola HS810
Fast forward several months Since I recently dumped the Treo 600 for the Blackberry 7290 I needed to revive my bluetooth headset ventures so I acquired a Motorola HS810. After getting it charged up I paired it up with the 7290 and was on my way to bluetoothing once again. I called one of my cube partners Kevin on it and we chatted for a few and things sound OK. Then, I called Atomic who was all of 3 feet away and then started walking down the hall to see how far it would reach. This thing stretched out to like 100 feet at least! HS810 Comments So I have had this device like one day and I can already tell it is by far my favorite BT headset to date. Here are a few reasons I like it in case you are thinking about getting one:
The on / off switch simply requires that you slide the mic over. This is cool because on the previous headsets the on/off and other features were on one button. This makes it REALLY hard to pair and do other functions. This is the top of my list and I never would have thought so before I bought it. It is ashame the HS820 doesn't have this feature.
It came with a really cool case unlike the previous ones I have had. I think this is important since you don't want to walk around looking like a dork ALL the time, just part of the time. I actually walked around all afternoon and even taught class wearing the case and didn't even notice.
It has an incredibly small foot print, especially when you fold the mic in to turn the device off.
The volume buttons are located in a reasonable spot and are natural to get to.
It feels comfortable and is really easy to put on unlike the Jabra 250.
The people I have talked to on it just thought I was on a cell phone and not even using a headset, especially a BT one.
Great battery life, 5 hours.
The wind and background noise doesn't carry through conversation. Don't take my word for this one, read the review at MobileBurn.Com where they actually have MP3's of this and other headsets in normal mode and in wind mode. I know, crazy.
So far the HS810 is a great bluetooth headset. Anyone looking to get a headset this one is a winner!