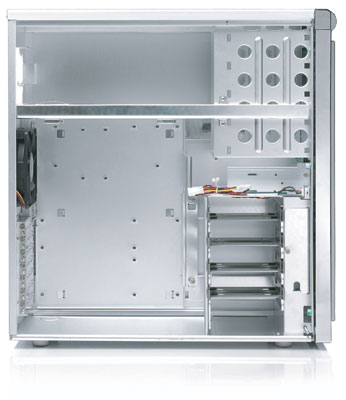 It has been several years since I had a dedicated gaming machine. I decided it was time to put together a new Windows machine to play games on, and to continue working on my MCAD certification in .Net. The last big gaming PC I had was way back when I ran Affordable Computers. I honestly let that machine go down after I became the proud owner of a Powerbook. At the time I didn't have a need for a PC workstation so I stopped using it and just put it up on the shelf. Fast forward a few years from the Powerbook purchase and things have changed. I am no longer doing web development in PHP everything is in .Net now and although I do own a Shuttle PC (AMD 2.4GHz) it just isn't fast enough for today's games. As a result I built a new gaming machine with a computer loan from work. It is a perk working for one of the 12th best companies in the US. So here are the specs of the new machine for those hardware junkies out there:
2 x Maxtor 200GB 8MB cache Hard Drives – Raid 0
Having run a computer hardware company before, I knew which manufacturers I was going to purchase hardware from: Asus, Maxtor, Corsiar, Nvidia and Antec. I didn't have to do much research on each of the components except for the video card. Memory is memory, you just buy what the board recommends, hard drives are easy and there aren't that many computer case choices worthy of owning except for a few. The Asus motherboard I settled on is great. Reading several benchmark web sites about the K8VSE Deluxe and its overclocking capabilities and I was sold. The board has 8 USB ports, 2 firewire, front panel mounts for the new cool cases, built-in SATA Raid (which I am using), speaks when it boots up (yeah I know, cool) and much more. My only remaining thing to research was the video card. There are a lot of video manufactures out there making Nvidia video cards nowadays. Some include BFG, PNY, eVGA and others. I spent quite a bit of time reading reviews on the different manufactures and the video cards and I settled on the BFG 6800 GT OC with 256MB of memory. The card comes overclocked from the manufacturer and has a lifetime 24/7 warranty to boot. Not to mention it is made in the USA (which I dig). As reviews I read pointed out, the BFG card only takes up one slot unlike the Ultra version does. And since it is already overclocked from the manufacturer, it has already been squeezed for performance. So far I haven't been able to play anything that gives this card a run for its money. Great card thus far.
Benchmarks
Here are a few benchmarks of the machine. The first is the HDTach hard drive benchmark: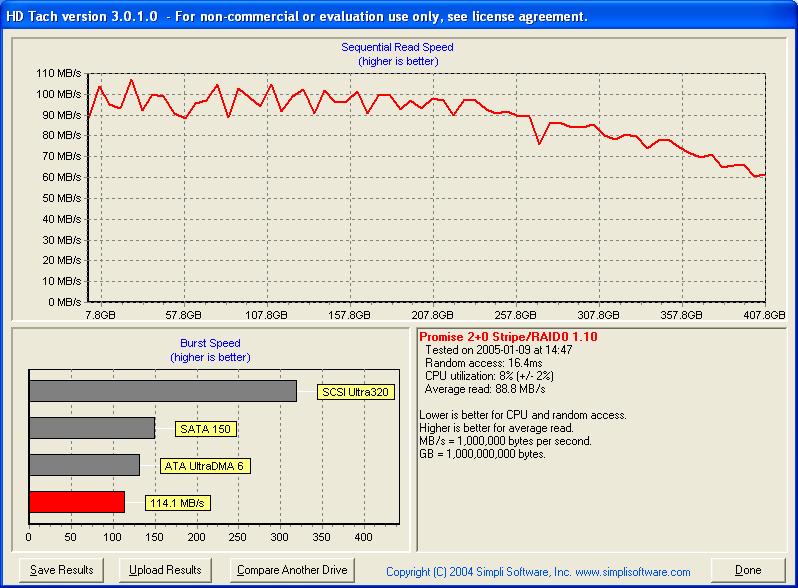 As you see from above, the serial ATA drives really cook and can burst about 114MB/s. Not too bad. The seek time isn't the greatest and although I don't have the latest benchmark for this, after a BIOS update on the board, the CPU utlilization went down to 2% and the seek time improved a lot. After running HDTach I ran 3dMark. Results are here. After comparing my results with a few other people, I decided to do a little tweaking with the Forceware drivers from an article I found on 3DGPU. To help in tweaking my settings I downloaded "shadow volumes" instead of running the 3dMark which takes forever. The shadow volumes only takes about 22 seconds to complete. The results of running Shadow Volumes is here:
Benchmark duration: 22.0019(s). Total number of frames: 2756. Minimum number of frames: 77.3146. Maximum number of frames: 214.383. Average number of frames: 125.262.
The above score is overclocked to 410/1.08.
Benchmark duration: 22.0004(s). Total number of frames: 1971. Minimum number of frames: 71.888. Maximum number of frames: 100.362. Average number of frames: 89.5893.
The above score was clocked at the default of 370/1.0 It isn't hard to see which one is the winner when it comes to overclocking the BFG 6800. BTW, these benchmarks were done with the 66.93 WHM drivers from Nvidia if anyone is wondering.
Final Thoughts
All in all my new gaming machine is running excellent and while it isn't the absolute fastest thing on the planet, it isn't shabby considering I only spent about $1450.00 total on the machine. Given the budget and the performance of the machine I am quite happy. My only glitch right now is trying to figure out why UT2004 blue screens when I exit the game occasionally. That is so far my only weirdo problem. Other than that it is running fine.