I haven't blogged about this yet but I acquired a Zune back in December.  The reason I haven't blogged about it is I haven't traveled anywhere with it  yet.  As a matter of fact I got the Zune while I was on a trip in Michigan and since I run Windows Server 2003 on my laptop I couldn't even play with it.  When I got home it wasn't supported on Windows Vista either but not to long after that there was an update and it works now.  Once I got it setup on my Vista machine and over the initial shock the Zune didn't sync with Windows Media player at all (I'll blog more about this later) nor support podcasts or video casts I then installed http://www.feedyourzune.com.  I know what you are thinking.  "It doesn't support podcasts out of the box?".  Answer: nope.  It probably will in the future since it is just a software upgrade, but right now it doesn't, therefore the need for FeedYourZune.  With FeedYourZune you can then get podcasts and video casts onto the Zune. 
The night before I left for CodeMash I spent some time getting video and audio casts downloaded to the Zune.  I haven't traveled with a video device before so I was curious what I would play the most, audio or video.  Turns out I never stopped playing video on the plane or while waiting in the terminal.  I probably played video for about 2.5 hours and I had about 2/3 battery life left.  I'll blog more about the Zune experience later on sometime after I get a feel for it so let's move onto the squirting video!
Zune Squirt Video
The Zune has a wireless card built into it and one of the things you can do today with the wireless card is transfer a song to another Zune.  Since I work at home and know absolutely no one else where I live that has a Zune, this is something I couldn't play with without a partner in crime.   During the first day of CodeMash we were having lunch.  Patrick and Alex of SRT Solutions were at the table along with Steve and Bob and last but not least Jason Follas.  Jason had just acquired a Black Zune and had it with him.   Being geeks we immediately thought it was the perfect chance to squirt.  I pulled my Canon SD630 camera out and took a quick video.   
Just a few more screen shots so you can see how the experience is.  Here are our devices sitting side by side on the table.  Mine is white, his is black.  This is what the screen looks like when you are searching for nearby devices.  Sorry for the bad pic but the lighting in the room was really bad.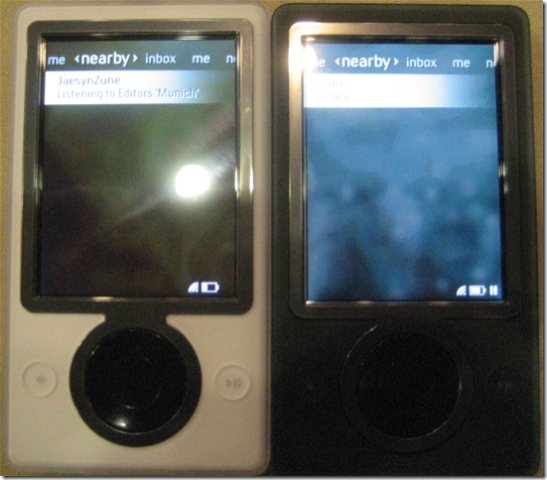 Once the transfer finished which we didn't want to wait for it in the video so here is what the screen displays once it is finished with the transfer.  Note that it says you can play the song 3 times in 3 days.  This is something that digital rights management needs to address because the file I transferred Jason was in fact just a podcast which should have no restrictions.  I don't have any ideas how this should be solved in order to mark a file with a different license but we need to figure it out.  Especially when it comes to podcasts and video casts.