Posted by
Keith Elder

| Posted in Asp.Net | Posted on 09-04-2007
I was setting up an internal blog site at my company today where developers and engineers can post blog entries.  After SubText was installed on the site I went to setup Live Writer.  This is the defacto blog editing tool I use for my blog and I was going to use it on the internal blog. 
When I went to setup the Weblog in Live Writer, IIS was configured with Integrated Authentication turned on (even though SubText uses forms authentication) and I got an error when configuring the blog of 401 unauthorized.  Obviously Live Writer wasn't passing my windows credentials and this forced me to have to turn integrated authentication off on this site in IIS.  Not happy.  I really wanted to leave integrated authentication on because it would allow me to do some other things with custom permissions and the other reason being we can easily control who has access to the internal site via active directory roles. 
I can't be the only person who has tried to do this.  Nevertheless this got me to thinking if Live Writer worked with Sharepoint 2007 to write blog articles which does use integrated authentication by default.  This isn't supported it looks like either.  
If you haven't ever used Live Writer, here are the screens you go through to setup a new blog:
1.  Choose either Live Spaces or another blog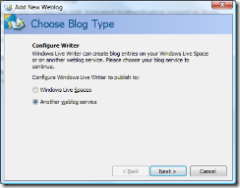 2.  Enter Blog Site and Credentials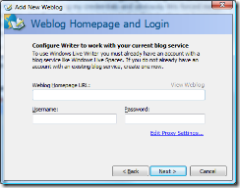 It is this screen that needs to have the option to pass Windows credentials so I can connect to my internal site or Sharepoint 2007.  Live Writer is still in beta so the team does still have time to get this feature added 🙂