Posted by
Keith Elder

| Posted in Uncategorized | Posted on 16-04-2007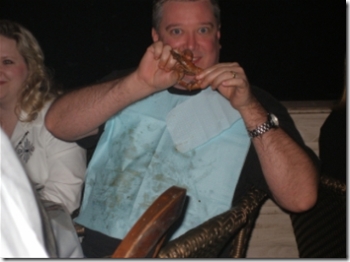 Saturday was the Alabama Code Camp in Mobile, AL.  Doug and Matt, who run the Mobile .Net User Group, put on a heck of a show and raised the bar for code camps in the area.  I couldn't believe how many speakers were there.  So many in fact there was only enough room for the majority of us to do one talk.  Speakers came in from as far away as Florida, Alabama, Georgia, and Mississippi. 
Friday night the speakers got together at Felix's Fish Camp off exit 27 on I-10.  I had the barbeque shrimp which came complete with a bib (pictured to the left which More Wally took).   Notice they don't give me peeled shrimp.  At Felix's you get the REAL DEAL on the shrimp complete with tails and heads.  I have to say it was some of the best shrimp I've ever eaten.  Their sauce was incredible.  Ellen went with me on this trip as well, she is in the picture but cut off a little.  She'd been to Felix's before and said we should go.  She was right, the food was excellent!
We got to Felix's a little late thanks to me printing off the wrong directions from the wrong starting location.  Basically at the end of our table was the .Net 3.0 track presenters with Jeff Barnes doing WCF, Todd Miranda doing WPF and me doing WF (workflow foundation).  The seating arrangement wasn't planned, it just sort of worked out that way.  Also at the end was Jeremy Chance.  Honestly, Jeremy  probably knows more about tires and trucks than I do about workflow.  I did learn while eating supper that I could fit 32 inch tires onto my Jeep Liberty.  As Jeremy explained the 33's are too big and will rub the sidewall.  See, told you he knew more!  
There were also three Microsoft DE's there:  Doug "I do psycho analysis on the crowd while I present" Turnure , Joe "I wear women shirts to code camps" Healy and Brian "I still need more wally" Hitney.  Actually I don't know if Brian needs more Wally or not, but I had to work it in somehow for Wally to get two links from this post or he'll kill me!  🙂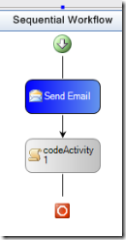 Like I said earlier I talked about Workflow Foundation.  Today I might add we rolled out a significant feature for our internal Smart Client CRM application which leverages workflow foundation from our services layer (middle tier).  Cool stuff.  For a topic I chose something I'd been doing a lot of and that was writing custom workflow activities.  Not that I measured it but I probably wrote the most code of anyone at the code camp.  I wrote the custom workflow activity completely from scratch without any pre-done samples, kind of a different approach for a "code camp" I know.  I hope those of you that were in the presentation liked this approach and enjoyed it.  I personally always get more out of watching someone go through the process.  If not, let me know and I'll never do it again!  In the end we built the the custom SendEmail workflow activity you see to the left which we could drag from the toolbox onto the designer.  Fun stuff!
During the code camp I made a connection with a fellow Mississippian who relocated to the area I'm in.  While we aren't in the same city, he is still the only .Net developer I've met.  We may be organizing something in our area in the future so stay tuned!  Aubrey, we'll hook soon I'm sure!
The only thing that got me down about the camp was the fact that I lost my dang Canon SD630 camera.  Well I didn't lose it, I left it at the code camp on the desk.  See, you really "Can't Fix Stupid!"  (inside joke).  This is a bummer since I had worked out my hotel for free and everything. I really thought I was pulling an almost free trip using my Hilton Honors Gold VIP points.  Instead, I'm out a $300 camera.