Posted by
Keith Elder

| Posted in Uncategorized | Posted on 03-05-2007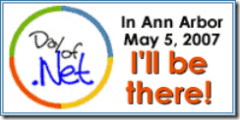 In the morning I'll be jumping on a plane and leaving the great state of Mississippi.  Destination, Day of .Net in Ann Arbor, MI.  Technically I'll be staying in Livonia, MI which is about 20 miles from Ann Arbor since the up and coming week I'll be working onsite at Quicken Loans.  Day of .Net is going to be held at Washtenaw Community College in Ann Arbor where I used to teach so I'm looking forward to going back to Ann Arbor. I haven't been there since I moved in 2005.
At Day of .Net I'll be doing a talk on Smart Clients.  I actually wanted to do a talk on Workflow Foundation but Jason Follas hates me and thus I am doing Smart Clients.  I think he secretly wants to learn more tips and tricks from me so he can make more money as a consultant selling Smart Clients.  I'm onto you Follas!  🙂
Several days later, Wednesday to be exact, I'll be back in Ann Arbor speaking at the Ann Arbor .Net User Group organized by Darrell Hawley.    I'll be doing a brand new talk that I haven't done yet nor have I seen anyone speak about.  Hopefully it will be beneficial for everyone and it will keep the tomatoes and eggs thrown at me to a minimum.  Here is the abstract:
Structure and Guidance for Organizing Applications within Visual Studio

Visual Studio is an outstanding tool when it comes to building applications on the .Net Framework.  It can be confusing for users when trying to initialize a new software deliverable though.  For example, how do you name your projects?  Where do you put third party assemblies so they can be re-used?  How do you set things up for an n-tier architecture?  And the list goes on.  I've given various talks throughout the US and it never fails that I end up in a conversation with multiple people on what are the best ways to organize projects within Visual Studio.  This session should answer these questions and provide some proven guidance that works.  In this session we'll cover some best practices on how to organize your projects and solutions.   We'll also look at some tricks and guidance on how to map your folder structure to your namespaces.  During the session we are going to build a new application from scratch and cover how to initially incorporate an n-tier design when initializing your project.  Even if you are an experienced .Net developer this is one session you will not want to miss!
I look forward to see old friends, new friends, team members, ex-students, faculty and more this week.