Yesterday was the Day of .Net hosted in Ann Arbor.  It was great to see tons of people I haven't seen in years.  I went to several talks including Dustin Campbell's talk on Reflection.  I learned more about reflection during Dustin's talk than I ever wanted to know.  I also went to Dan Hibbitts talk on Mobile Software Factory.  Rounding out the day I went to Mark Miller's talks on WPF and WPF/WCF.  I have to hand it to Mark, he did a really good demo of WPF and WCF whereby he built a hockey game whereby one could be the server and the other the client.  Moving the mouse on one application moved it on the other.  From the gaming industry standpoint this is nothing new since network games have done this for awhile.  However, it was a great WPF and WCF demo to show tcpBinary messages being sent from application to application.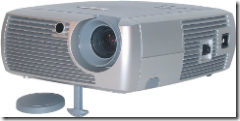 As Dan has already vocally exclaimed on my other post I killed the projector during my talk.  My talk was scheduled during the last session of the day and I was ready.  What I wasn't ready for is about 45 minutes into the session, right before I got into the really cool demos of deploying the application using ClickOnce, I kicked the power cord out of the socket and took down the projector.  If you know projectors at all you know they don't like being shut off without warming down so essentially I took the projector out for the remaining of the talk.  Let me apologize to everyone for robbing you of what was going to be the best most well thought out earth shattering demo you would have seen the entire day.  🙂 
For those that are in the area I promise to makeup for it Wednesday when I speak at the Ann Arbor .Net User Group.