Posted by
Keith Elder

| Posted in Uncategorized | Posted on 14-05-2007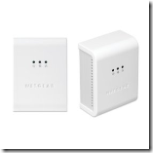 Who says it doesn't pay to read blogs during lunch?  Well I was just going through my blog reader while eating a Subway salad and came across Joe Healey's find that solved his networking problem.  I also face a similar situation due to how my house is setup. 
My end goal is to have my Xbox 360 sitting in the living room and then record all of my TV shows with my main computer sitting in the home office.  I thought about running an ethernet drop over to my Xbox 360 so it could serve as a media extender but that would mean I would have to do something physical like running wires (yuck).  Sorry, that's not going to happen. 
The reason I can't just run the Xbox wirelessly with the G wireless adapter is I have some Mac's on the network that can't do anything but B wirelessly and thus it slows down the connection of the wireless router.  And no, I'm not going to spend money on the Macs to upgrade their wireless cards.  Basically if I do a network check from the Xbox 360 it tells me I suck and can't run video with media center (even though I have a Linksys N wireless router). 
According to the reviews I started reading (and Joe's review), the Netgear 85Mbps might be the thing I was looking for to allow me to stream video from the media center in my home office to the Xbox in the living room without the need to run wires.  Thus giving me only one device in the living room to turn on and worry with.   It would also fulfill the Xbox's vision of taking over my living room as my main media device.   Think it'll work?