Posted by
Keith Elder

| Posted in Uncategorized | Posted on 21-05-2007
A few days ago I posted about registering on the Twitter web site.  Since then I've been sending updates from my Cingular 8525 mobile phone.  Pretty easy to do when on the road.  But now, I'm back at my desk in the office and I want to Twitter from instant message but can't because Twitter AIM bot hates me.  
When you visit the Twitter site and click on settings they give you the Twitter IM account for AIM and then a random generated string which you send to this "bot" listening on the other end.  Once you send the secret message it verifies you are you and then of course activates AIM msgs from your user account so you can "twitter" to the AIM bot.   
Like I said the Twitter bot hates me because for the past several days I've been getting this error message: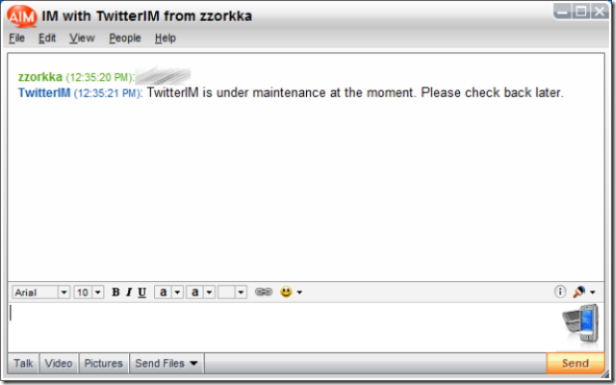 Today I broke down and sent a message to Twitter.com's technical support.  Hopefully they will respond with a sense of urgency so the world….. dare I say universe can keep up with my twittering.  I am certain they will see the world is losing valuable information by me not being able to Twitter via AIM and respond soon with the fix.