Posted by
Keith Elder

| Posted in .Net | Posted on 09-06-2007
A few weeks ago I installed Resharper trial to give it a try.   During this time I was doing some development on a brand new project so I figured it would be a good test to see how it works  / performs.   It wasn't long until I noticed some serious performance drops in Visual Studio so I turned on the Resharper feature which keeps tabs on the memory it is using in the status bar.  My small solution with a few projects was eating up about 120MB! 
This week at TechEd I won a copy of CodeRush and Refactor! from http://www.devexpress.com.  I know Dustin Campbell and Mark Miller who both work at developer express and I've seen them both do several demos on their product.  I was a fan but knowing they sponsor a lot of CodeCamps and other events like TechEd I knew I would eventually run into a copy.   Once I got the license I uninstalled Resharper and then installed CodeRush.  Played with it some and immediately noticed that intellisense wasn't working anymore.  Of course I blamed CodeRush and went to their support site only to find a link to the Resharper site.   Apparently when uninstalling Resharper it disables intellisense so you have to re-enable it.  To do this open up the tools menu then Text Editor and then C#.  Under there you will need to recheck "Auto list members" and "Parameter information" to get intellisense enabled as shown below.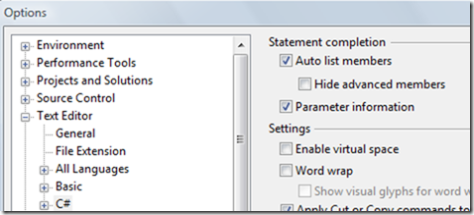 Hopefully this will help others that run into the same problem.  So far I've only coded a little in VS2005 with CodeRush and Refactor! installed but so far it works as described.