Posted by
Keith Elder

| Posted in Family, Friends | Posted on 19-07-2007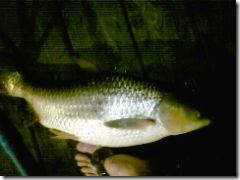 I realized several months ago that I can't fish and get outdoors staring at a company screen  reading and writing everyday.  I decided to take back a part of my life that I truly enjoyed as a kid but somehow forgot along the way while trying to settle into my career as a professional.  The part I took back and revived was my love of fishing. 
The past several months I have been fishing anywhere from 2-4 times a week.  Mostly late in the evening starting around 7:00 PM or earlier depending on when I wind up my work day.  To start off my fishing revitalization I took my 12ft boat to a friends house who lives on a lake nearby.  He needed a boat, and I needed a lake.  It worked out.  The lake he lives on is about 40 acres so not to shabby and fishing there is good.  Once I got the boat there we started fishing for bass pretty heavily in the afternoons.  We caught a lot anywhere from 1-3lbs. 
So far the biggest fresh water fish I've caught this summer is this 20lb Carp that I caught a few days ago.  He was a monster.  My foot next to him is a size 12 if that gives you any indication how big he really was.  I caught him on an Abu Garcia TGC6000C reel on chicken livers about 9:30 at night.
As we got deeper into the summer though it became apparent it was too hot to fish on the lake in the boat.  When it is 90+ degrees it is tough to fish.  As a result we started fishing later in the day from his dock for catfish (my favorite type of fishing).   Catfish bite better at night anyway and it is cooler.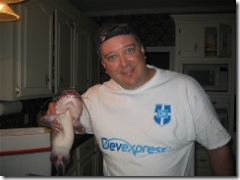 You may not think things would get too exciting fishing for catfish from a a dock on a lake but let me tell you we've caught a lot of fish.  When the first fool moon hit we fill a basket of catfish with several of us fishing.  There of course were those that got away and broke line, and others that almost got away but we got back (true story).  One Saturday night about three of us were fishing.  About 11:30 PM I happened to be holding my reel in my hand and a catfish hit the line and when I set the hook he was so big he jerked the rod out of my hand into the water.  Not kidding true story.  My friends were bent over rolling on the floor laughing.  I was getting sick because I had just bought that rod and reel a few months ago.  I walked around on the dock wondering what the heck happened.  Twenty minutes later one of the guys fishing said, oh, oh I got something.  He started reeling and said, well it feels like a limb.  Turns out the fish that was on my line had drug my rod and reel out to where his line was and he hung it.  He reeled it in and sure enough it was my rod.  I grabbed the dip net and got the rod out of the water and the fish was still on!  We refer to him as the one that almost got away now.  Oh, and if you are wondering what I do with all the T-shirts I get at conferences, you can see here I caught this fish wearing a Devexpress T-shirt.
If you are wondering what bait I use for catfishing I mainly use raw peeled shrimp.  I buy them fresh in 1/2 or 1lb increments from Corner Market here in town.  What I do then is buy a small thing of vanilla extract and then marinate the shrimp in the vanilla to give it even more flavor.  I've done a lot of fishing and no matter what I put on a line side by side a shrimp, the fish always hit the shrimp first.  And to boot, the fish are usually bigger on shrimp.
A few weeks ago I was back home and happened to catch my Uncle's at home and all of us went fishing on the Tennessee River.  Here are some pics from that trip.  So far the summer has shaped up to be a lot more fun than staring at a computer screen.  I encourage everyone to revive whatever it is you like doing and as they say in Texas Hold 'Em, go all in on it.
Lavaughn and Jerry, my uncles on father's side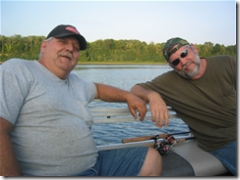 Jerry caught the biggest fish of the day.  A good size drum fish in about 50ft of water on the bottom with red worms.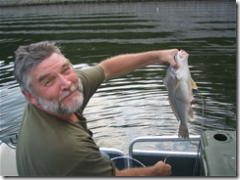 Ellen caught a nice catfish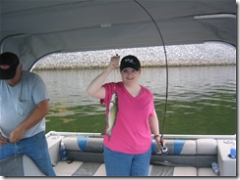 Lavaughn caught a nice catfish that day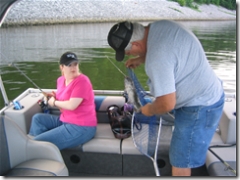 Of course I got stuck mainly driving the boat