Posted by
Keith Elder

| Posted in Funny Stuff | Posted on 19-08-2007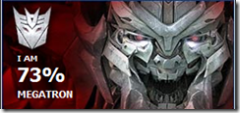 I took another one of those personality tests.   This one I don't know how much weight it holds but in the end, I'm 73% Megatron.  Here is the overview: 
Megatron is the leader of the Decepticons. He will stop at nothing to establish his empire and destroy the Autobots, starting with Optimus Prime.

Like Megatron, you are not compassionate and harbor evil thoughts. You are inspiring, confident, and a natural leader. The Decepticons have chosen well. In addition, you enjoy being one step ahead of your friends as far as trends and technology.
I don't know about the harboring of evil thoughts but my wife definitely tells me I have no compassion.  The next sentence is of course dead on.   As far as trends and technology I don't enjoy it to be ahead of someone else, I just enjoy it.  So close and then again not so close.  My friend Moonkhan was 89% Megatron.  Scary.  Ok now, your turn.   Take the test.