Posted by
Keith Elder

| Posted in General | Posted on 21-09-2007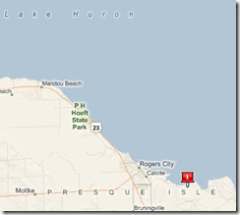 A few months ago I wrote about my rekindled love for fishing.  In a few days I will be going on the ultimate fishing trip to Michigan where the great Salmon Hunt of 2007 will take place.  I know you've seen the Discovery Channel where they show the salmon running up the rivers and how big they are.  Well that's where I'll be fishing next week except we'll be in a boat on Lake Huron since it is illegal to catch the salmon in the river.  However, while they are in the lake before going up the river, they are fair game.
About eight guys from work and myself will be heading to Rogers City, MI on September 27th to kick things off.  This is one fishing trip I have been waiting on for several months and as the days inch closer my dreams of catching 30lb Salmon are about to come true.  Here is a map for those that like myself had no idea Rogers City even existed.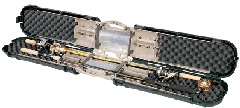 With a six hour flight and then a five hour car ride I had to purchase a fishing rod holder for the trip.  I didn't want my rods and reels to get busted during travel.  I went to the local sporting goods store here (Big Bucks) and picked up a Frabill Pack-a-pole model 7000 hard case.  I haven't traveled with it yet so I can't give you a review of it, but it does hold four rods and reels and has a place to put tackle.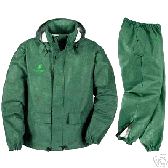 Since I am in Mississippi, the biggest shock on this trip is going to be the change in weather.  I know it is going to get cold, especially at night and the possibility of rain is pretty high.  Knowing this I picked up a Frog Togg Pro Sports Suite just for the occasion.  Even if I don't catch fish, I am still planning on staying dry. 
Since this is my first trip to ever go salmon fishing, I am relying heavily upon my co-workers who have all gone multiple times.  I was especially curious about what they used for bait.  Turns out they mainly use 4-5 inch suspending crank baits.  I picked up several Smithwick Suspending Rogue five inch lures at the local sporting good store as well. 
| | |
| --- | --- |
| Smithwick Blue Luminescent | |
| Smithwick Tiger Roan | |
According to legend the Tiger Roan is suppose to be unbeatable during the day and the glow in the dark one is unbeatable at night.  I don't care as long as I catch fish!  When I get back to civilization I hope to have enough pictures to choke a good mule so stay tuned!