Posted by
Keith Elder

| Posted in Apple | Posted on 29-10-2007
That is the message Apple is sending to its enterprise customers with the release of its new Leopard operating system according to reports coming in from Java developers.  Apple isn't supporting Java 6.0 on Leopard and there are tons of problems even running the IDE on previous version.  Enough to drive one Java developer away from Apple completely and others screaming when is Java 6 going to be supported.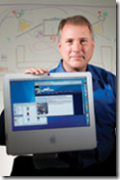 It makes you wonder what Dale Frantz (pictured left) is going to do as a CIO who switched his entire company over to Mac OS X as reported in Computer World back in July.  The plan as he described it was to write Java applications and have them run on Mac OS X.  Sounds reasonable, but ONLY if the vendor supports the same idea Dale!
Apple has been known to not care what anyone wants but themselves.  At least Microsoft is open to ideas from those in the community and try to at least listen and embrace what the community wants.  The other thing Microsoft does in this area is communicate its plan when products will be supported and when they will not.  It is VERY important for an enterprise to know if what it is doing today is going to be here tomorrow.  Imagine if Microsoft when it shipped Windows Vista didn't support Java.  Can you imagine?  Or even worse, Microsoft decides down the road in 2009 to not support .Net 3.5 after a year or so.  Can you imagine the chaos that would spewed on the Internet?  I can't.  Yet the "new evil empire" can.
For those of you *thinking* about switching your company over to Apple products entirely heed my warning and take it to heart. You WILL get screwed by Apple in more than one way.  Either you will buy new hardware right before new hardware is released which means you should have paid less, or you don't get future upgrades, or they simply don't tell you what they are doing to their products or they remove a language your developers need.  At some point they will cost you money.  Ask yourself can you sleep at night not knowing what is going to happen with the decision you are going to make.  Honestly you'd be better off using Linux over Apple but that is another topic.
Apple, I want to like you.  I have two notebooks of yours and I want to write applications for your platform, but until you pull your head out of your crotch I'm going to have to stick to writing .Net code and continue swallowing the blue pills.