Posted by
Keith Elder

| Posted in Food | Posted on 15-12-2007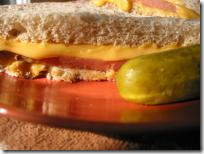 I was reminded the other day about something I used to eat when I was growing up during a conversation with a friend.  It has been years, heck, a decade and then some since the last time I had a fried bologna sandwich. 
Growing up I considered it a delicacy.  The taste and satisfaction it brought was only equaled to that of a Hot Fudge Sundae (with no nuts).  How I forgot about this beloved treasure I have no idea.  Maybe age and the pursuit of other foods made me forget.  It is time to get back to the basics though.
Bologna Background
For those that find the thought of fried bologna a little weird we need to first understand what it really is made of and how it is made.  Bologna is actually a smoked sausage made of cured beef, pork, turkey or a combination thereof.  That's right, it is considered a sausage.  At the factory it is made into a puree so it can be molded into different shapes and then sliced.  Everyone that eats sausage understands that sausage is fried before eaten.  Thus, since bologna is actually sausage, it should no longer come as a shock that bologna can be fried.
Bologna is also a great sandwich meat although many consider it the bottom dweller of meats because it isn't a pure cut meat like ham, or turkey.  A lot of people refer to it as a "government" meat since the government provided it to those on welfare years ago. 
Best User Experience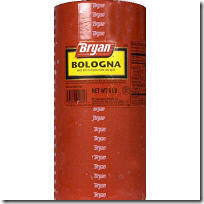 The best way to buy bologna is not to go to the store and buy a small pack.  To really experience a fine bologna it must be purchased in bulk.  Typically a Sam's Club or Costco sales it by what is called the "stick".  Normally a stick will weigh about 5lbs.  While it is a lot of meat, if kept refrigerated it will keep for a long time.  Bryan bologna has been around in the South for years and it is the first choice usually selected.  Another benefit of purchasing by the stick is it isn't sliced.  This allows for varying degrees of thickness when sliced and allows it to serve different roles easier.
Ways To Eat Bologna

Fried Bologna Sandwich
The very first and best way to eat bologna is to fry it and eat it on a sandwich.  For the best flavor use a cast iron skillet.  Really for any meat that is going to be fried it should be cooked in a cast iron skillet.  If slicing your own bologna from a stick, do not make your cuts too thick.  When frying bologna it should be thin.  The perfect thickness when slicing your own is slightly less thick than a store bought pack of bologna.  Once cut to the proper thickness, slice bologna in the middle to make two halves. 
Unlike sausage, you must add a small amount of oil to the skillet.  This will keep it from sticking.  As the bologna cooks it will bubble up in the center.  If the skillet is hot, cooking time will be relatively quick so don't put it in the skillet and walk away.  To get the perfect flavor of fried bologna I prefer it to be cooked to where there are charred markings on the bologna.  It shouldn't be completely black when cooked, but it should have some black markings on it. 
Once the bologna is cooked, take two pieces of bread either toasted or plain and place several slices of bologna onto one side.  Then grab a jar of mustard and add several teaspoons.  That's it, you are ready to eat!  I've had people ask me, why do you use mustard only?  The reason is it just tastes the best with the fried bologna.  Mayonnaise or other dressing do not work near as well with fried bologna, and neither does adding other things like tomatoes or pickles.  There is plenty of flavor in just the fried bologna so there is no need to dress it up anymore.
Traditional Bologna Sandwich
A traditional way to eat bologna is on a sandwich.  Bologna has such a strong flavor that it isn't wise to mix it with other meats.  This is why delis do not offer turkey, ham, roast beef and bologna sandwiches.  The bologna is so rich and powerful it will overtake the flavor of the other meats.  This is why bologna should be eaten and served by itself. 
To fix a bologna sandwich it is simple.  Use one or two slices of bologna, miracle whip salad dressing or mayonnaise (depending on which one you prefer), and a slice or two of tomato.  While a slice of cheese can be added choose wisely.  About the only type of cheese that can take bologna head on is a sharp cheddar.  Anything else and it diminishes the flavor combination of the mayonnaise and the tomato and also gets in the way of the bologna.  Again the bologna provides plenty of flavor on its own.
Bologna, Cheese and Crackers
When I was a child growing up during the summer, one of the most anticipated days I looked forward to in the week was Tuesday.  Every summer I use to ride along with my Father and help him on his Pepsi Cola route.  It was hard work but I got to meet a lot of people and learned the art of salesman ship and the gift of gab from my Father.  Tuesday was the day we went to a country store outside of Ripley, MS called Curtis's.  Curtis, the owner, had a store between Ripley and Booneville on HWY 4 that served the community.  It was a quaint country store with hardwood floors, a small meat counter where meats were sliced, and rows of candy.  Curtis was a supper nice guy and I enjoyed stopping into his store because that meant we got to eat.  We always got to Curtis's store around lunch time. 
For lunch some days we'd have Curtis fix us a sandwich.  He'd slice a big piece of bologna from a stick and then other days we'd have him just slice a really thick slice of bologna, a thick slice of sharp cheddar cheese, and pick up a few packs of crackers.  When I mean thick slices, I mean thick.  Like a 1/4 lb slice of each. 
Hunters, fishermen, and explorers today are known to carry bologna, cheese and crackers because it stores easily, is quick to grab a quick bite, filling, easy, and requires no tools or utensils to eat.  The next time you go canoeing, camping, fishing, or hunting, give this a try, you'll be glad you did.