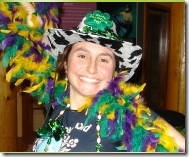 Monday February 4th, 2008, we will be having a geek dinner in Hattiesburg, Ms with special guest Sara Ford from Microsoft.  Sara is the Program Manager for Codeplex.Com which serves as a hosting ground for open source projects.  Sara is originally from Mississippi so we are glad to have her back in the area and taking time out of her traveling schedule to join us.   Living in Seattle she doesn't get to come back home often so this is a very special occasion to have her be able to join us.  Sara has already blogged about the dinner (she beat me to it) and I know she is excited to join us.  The following information should help to answer any and all questions.  If I fail to cover all the bases either add a comment or send me an email via the contact link on the site. 
When
Date: February 4th, 2008
Time: 7:00 PM
Where
Chesterfield's Restaurant – Chesterfield's is a staple restaurant in Hattiesburg that serves great food along with great service.  For those at the University without transportation it is conveniently located within walking distance at the intersection of Hardy and Hwy 49.   
Directions
Driving from:
the north (via I-59 S)
the south (via I-59 N)
the east (via US-98 W)
the west (via US-49 E / SR-42)
Who Can Attend?
The short answer is anyone that considers themselves a technologist or a geek.  Doug Turnure, Microsoft Developer Evangelist for Mississippi, and Chad Brooks, Microsoft Architect Evangelist for Mississippi, will also be joining us.  Doug and Chad know there stuff and can answer all types of questions and are great contacts to have.  We also aren't discriminating based on location so if you are from Alabama, Louisiana or nearby states in driving distance of Hattiesburg feel free to join us.
What If I'm an Open Source Person, Can I Still Go?
Absolutely!  Sara would love to talk to you more than the rest of since it is her job to stay in touch with the open source community!  Remember that a geek dinner isn't about a division of interest; it is about talking to the community, learning, and building long lasting friendships.  Don't worry; you will not be the only open source person there.  I'm also a carrying card member as is Sara.
What is a Geek Dinner?
Although there is no official definition a geek dinner is a time for technologist, enthusiasts, developers, architects and others in the community to gather and talk about technology.  That's it, plain and simple.  It doesn't mean you are part of a sacred group or cult, it just means you were hungry on a Monday night, needed some place to eat and there were a bunch of people that like technology like yourself eating at this one place so you decided to join them.
How Do I RSVP?
Easy.  Just add a comment to this blog entry or send an email using the contact link on the site stating your intentions of attending and I'll start to gather a head count from that.
Who Pays For Dinner?
Since there is a 2008 launch event during the day in Jackson, Ms, Microsoft has graciously agreed to sponsor part or all of the dinner depending on the number of attendees.  Note: Not all geek dinners are sponsored so this is really appreciated!
Received RSVPs
If your name appears in the following list I have received your RSVP.  If not, please re-send.
Sara Ford – Microsoft Program Manager for http://codeplex.com
Me – Quicken Loans
Shane Walters – Singletree Technologies
Doug Turnure – Microsoft
Chad Brooks – Microsoft
John Weathersby, Jr. – Open Source Software Institute Executive Director
Wayne Walters – Assistant Professor, USM, School of Computing
Stan Burton – President & CEO, Burton Computer
Sean Brace – Systems Engineer, Howard Industries
Jean Gourd – Visiting Assistant Professor, USM, School of Computing
Keith Parish – Software Engineer
Ryan Duclos – Program Director for LANUG, Proficient Consultant
Shara Walters – Singletree Technologies
Bill Booth – Pan American Life
Tim Hampton – Student
Aubrey Cote – Forte Online
UPDATE 1/25/2008 10:12 AM
There was a previous problem submitting comments as well as through the contact page in Internet Explorer.  This explains why people that emailed said they couldn't post comments.  Sorry, this is now fixed.  In the mean time search for the site is disabled.  I will get it back on soon.