Posted by
Keith Elder

| Posted in Howtos, Windows | Posted on 23-01-2008
After installing Outlook I have found the default installation does not automatically add holidays to the calendar.  When scheduling appointments and tasks it is important to know the holidays.  For example, a husband can find himself in a lot of trouble if he schedules a dinner with a client on Valentine's Day.  I have also found instances where users entered the holidays by hand into their calendars.  In either case holidays can be added to Outlook with just a few clicks of the mouse.  Here are the steps you need to take to enable holidays in your Outlook calendar.
Step 1: Tools->Options
In the top menu of Outlook select Tools then Options in the menu.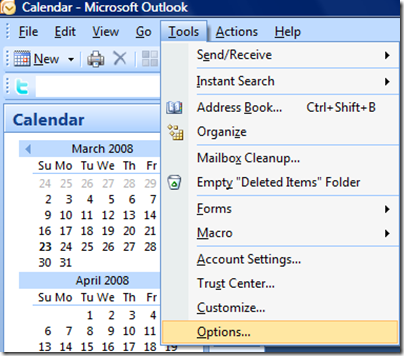 Step 2:  Select Calendar Options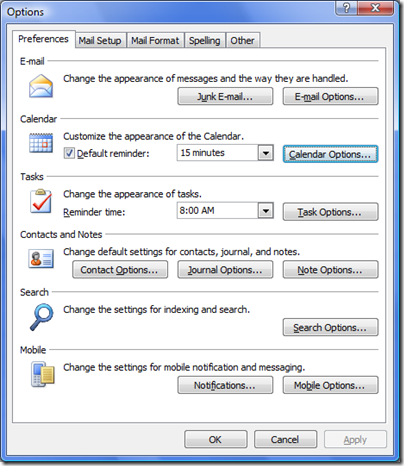 Step 3:  Select Add Holidays
In the middle of the next screen select "Add Holidays".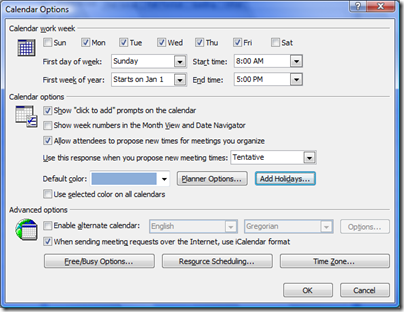 Step 4:  Select Country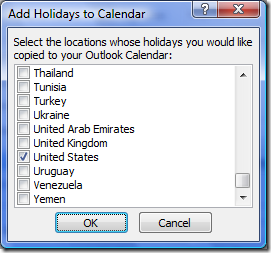 Press OK.
Step 5: Option Screen
You may or may not get the following screen.

If this screen appears just press "Yes".
Step 6:  Wait for Holidays to Be Added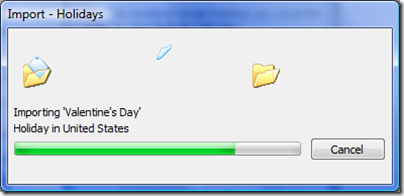 Step 7:  Done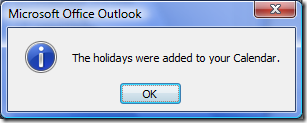 Press OK to close the other screens that are open.
Step 8:  Check Calendar
After this you should be able to visit a date that is known to be a holiday like Valentine's Day for example.  The holiday will be displayed at the top of the calendar in Outlook as shown below.