Posted by
Keith Elder

| Posted in Uncategorized | Posted on 05-02-2008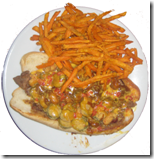 Monday was a packed day but lots of fun.  My day started off waking up at 5:30 AM to drive to Jackson, MS for the Visual Studio Seminar where Doug Turnure, Chad Brooks, and myself were speaking on the new Visual Studio 2008 platform.  Sunday was the Super Bowl and we had friends over who stayed with us until about 12:30 AM playing Rock Band.  If you do the math I was working on 5 hours of sleep.  Note to self, never schedule events after the Super Bowl.
Visual Studio in Jackson
We held the event at New Horizons in Jackson.  The staff there was super nice and very accommodating.  The really sad thing is once the event was announced the event filled up almost immediately and we had to place people on the waiting list. 
After the event Doug, Chad and I went to a local place to eat called Keifer's (no relation).  Keifer's is a great local place where you can get gyros, pitas, and these crazy shaped french fries which are basically a whole potato sliced into thin slices all the way through.  Doug and Chad both enjoyed it and knowing Doug he has booked marked the place in his never forgetting rolodex of places to eat.
Geek Dinner in Hattiesburg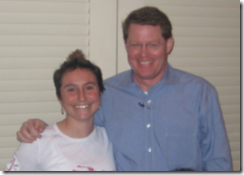 Later that evening the Geek Dinner was held in Hattiesburg at Chesterfield's.  This is a great picture of open source initiatives coming together.  Pictured to the left is Sara Ford, Program Manager for Codeplex, Microsoft's open source hosting service, and John Weathersby, Executive Director of the Open Source Software Institute.  I had to capture the moment because who would have believed that OSSI and Codeplex would come together in harmony in Hattiesburg of all places. 
Turn out was really good and honestly if one more person would have showed up, we'd had to sit people in another area.  I think everyone had a good time talking tech and learning from each other. Personally I really enjoyed it and hope we can do some other events in the area.  For those that are curious what the dish is called that I have a picture of listed above, it is called "The Swamp" served with sweet potato fries.  It is Chesterfield's best sandwich (in my personal opinion).   The thing is massive and is three meals in one.  In the menu it is described as "piles" and "mounds".  Truly a southern thing.  Several of us got it and it is delicious.
Thanks to everyone that came out I hope you enjoyed it and especially a big thank you to those who traveled a long distance including Sara, Sara's Mom, Ryan, Keith, Joe, Doug, Chad and anyone else I missed.  Here are some of the pictures I took last night.