Posted by
Keith Elder

| Posted in Internet | Posted on 08-02-2008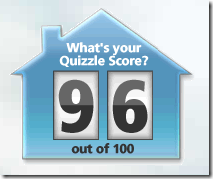 Today marks a momentus occasion for the Internet.  Today a brand new web site launched that has been in the making for several years.  The name:  QUIZZLE.
About Quizzle.Com
Quizzle is a unique site powered by Quicken Loans that allows users to manage their biggest asset, their home.  There are tons of features built into Quizzle to help users manage their budgets, access their finance as well as view their free credit report twice a year.  That's right, for free!  Quizzle pays the cost for you as apart of the service. 
What does Quizzle really do?  Wanna know your credit score?  Quizzle it.  Wanna keep track of your budget?  Quizzle it.  Wanna get an estimate on how much your home is worth right now for free!?  Quizzle it.  Wanna know if you are in the right mortgage with interest rates falling or rising?  Quizzle it.  Not sure if you have enough money in your rainy day fund?  Quizzle it. 
Quizzle brings all of this together and more into one central location to help you better keep track of your finances.  Best of all it is free!  You just have to sign up.  Here is a sample of what your Quizzle might look like.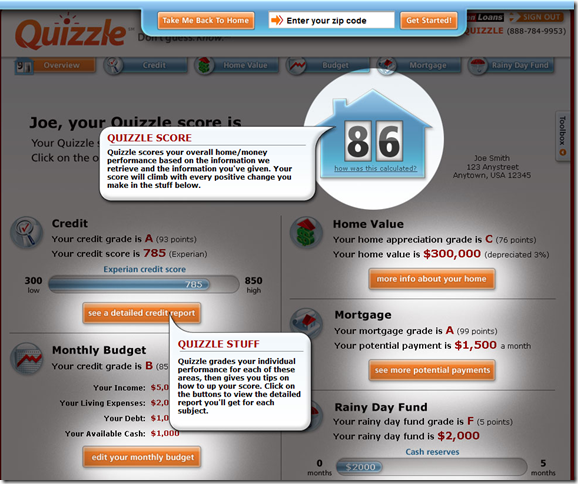 How Quizzle Works
Budgets and Your Free Credit Report
Managing your expenses and budget is a synch with Quizzle.  Once you sign up on the site, Quizzle uses your credit report to assist in calculating your budget.  Don't worry about your credit being pulled.  Quizzle does not impact your credit score.  It isn't against the rules to pull your own credit so don't worry!
Since Quizzle already knows your mortgage payment and other debts collected from your credit report, your budget information is automatically updated.  Just fill in the rest of your expenses like utilities and you have a complete picture of where you stand.  The end result is no more guessing and no more spending countless hours at your local bank trying to figure out what you should do with your home equity to plan for your kids college.  The best part is, every six months Quizzle emails you when you qualify for an updated credit report.  Simply visit the web site to get your free credit report and watch Quizzle go to work.
What's Your Home Worth?
How much equity do you have in your home right now?  How much is your home worth after purchasing it a few years ago?  With Quizzle this information is at your finger tips.  Using Quizzle's automated home value appraiser you can get an automated home value amount without the need to call an appraiser.  Best of all, by calculating your debt, equity, and other factors, Quizzle automatically tells you the top recommendations based on these factors for refinancing, purchasing a new home, or using your home equity line to pay off debt.
Countless Other Features
There are countless other features that Quizzle provides, the best thing you can do is just see it for yourself.
Did you know Quizzle has a blog?  To keep up to date with Quizzle's new features, announcements, best practices for managing your finances and so on, don't forget to visit the Quizzle Blog and add it to your daily RSS Feed Reader of choice.  Ann-Marie will keep you up-to-date on what is happening with interest rates, the federal reserve, how to get out of debt and how to be a millionaire by the time you are 65.  She's way smarter than me when it comes to this stuff so be sure to make it apart of your daily blog reading.
What Are You Waiting For?
Quizzle is going to change the way you look at your finances.  Head to http://www.quizzle.com to get started and sign up.  Go ahead, QUIZZLE!!!!!!!