Posted by
Keith Elder

| Posted in PC Gaming | Posted on 10-02-2008
I hate when things break.  When I was a child growing up my Father always told me, "Boy, you can tear up an anvil".  Well Dad, today I tore something else up.  Something that meant the world to me.  Something that made the time warp continuum disrupt.  My Rock Band bass foot pedal broke.  The weird thing is I have no idea how this happened.  I played Rock Band this morning for about 30 minutes and then slid the drum kit back out of the way.  I then took a shower and went to town and came back. 
Fast forward to a few hours ago and my wife said, "Hey, let's play Rock Band.".  I politely obliged her and reached for the drum kit.  As soon as I moved it I noticed the pedal was broken.  How could this be?!  I have no idea how this got broken but it did.  Here is what it looks like.

As you can tell it is completely broke at the base and obviously pointing in the wrong direction. 
The first thing I did was try to get a replacement.  After all the unit is under warranty.  After going through a whole bunch of web sites I finally found where I needed to be. Turns out that Electronic Arts does the warranty for Rock Band, not Harmonix.  Here's the link you need to get support for Rock Band.
http://support.ea.com/cgi-bin/ea.cfg/php/enduser/rockband.php
The site requires that you have an EA account, if you don't have one, you'll have to create one.  There are two ways to get a replacement:  express or standard.  Express is done by shipping a replacement item which requires a credit card.  I chose this option since it is faster.  Yet another reason to own an American Express card.
After ordering my replacement I started looking for ways to keep this from happening again.  It seems there are plenty of ways to make the foot pedal stronger.  There are metal replacements and wood replacements available from either Amazon or Ebay.   For example this one is called the Pedal Metal – Billet.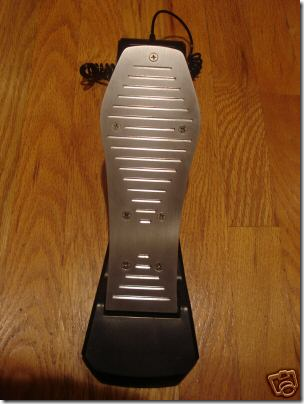 Basically it is an aluminum plate that replaces the plastic one.  It definitely should last longer.  I plan on waiting until I get the new pedal in to see if it is made any better before deciding to upgrade it.  In the mean time, I am back to playing Guitar until it comes in.