Posted by
Keith Elder

| Posted in Geek Dinner | Posted on 22-03-2008

After the Launch Event was over on Tuesday it was time to get the preparations started for the Geek Dinner.  I made a quick phone call to PizzaPapalis to place the order and get things rolling.  At this point I still had no idea how many people would show up but I kept checking my email looking for cancellations.  To my surprise there really weren't any. 
A bunch of us took the People Mover directly from the Renaissance Center to Greek Town.  This worked out really well since it dropped us off a block from the place.  The Launch Event ended early so everyone was ready to get going, several of them had already started!  The extremely cool thing about the Geek Dinner is Microsoft sponsored it for us.  It was an absolute surprise and thanks go to Josh Holmes and Daryll Hogan for helping out.  Also thanks goes to Randy Pagels for doing the official honors of signing the dotted line.  When I found out the event was going to get sponsored I pulled up TinyTwitter on my phone and sent the news out via Twitter since the majority of people attending the event were on Twitter anyway.  Thus I knew the word would spread.  Obviously it did since Alexey took this screen shot on his computer only 6 minutes later.  Pretty funny. You gotta love Twitter!
To say we talked tech is an understatement.  I put together a little geek tag cloud with all the expertise in the room.  For those curious, Brian Prince has "White Board" on him since he's an architect.  Also the VS in the top right is besides Eric (orange shirt).  Eric is on the Visual Studio team at Microsoft and is originally from Michigan.  He just happened to fly in to visit family and joined us.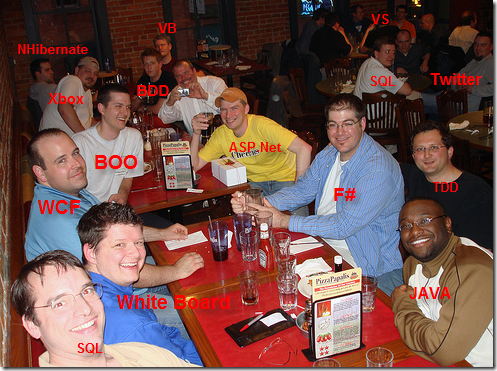 When everyone was sitting down eating I counted the room and we had 50 people at the dinner.  That was awesome.  More than I ever expected.  I told someone, if all the brain power in this room was the staff at a software company, there would be no stopping us collectively.  It was the who's who of Geeks from the Michigan and Ohio area.  The food was great, even noted by TheProKrammer.  Thanks to everyone that came out I hope you enjoyed the food and conversation, it was a blast.