What better way to end the MVP Summit than to have a really cool party at the Experience Music Project|Science Fiction Museum and Hall of Fame in Seattle, WA.
Joe Healy sent me the video he of me signing on stage during Rockaroake while I was on stage singing a little Garth Brooks, Friends in Low Places (link below).  It was a blast!  Some of you may have heard rumors about how I broke "Rockaroake" that night but really I didn't break anything.  Here is Jim's quote:
Seeing Keith Elder get on stage and sing karaoke (and break the process) nearly paid the price of admission for me.
The back story is right when we hit the first verse of the song Ryan Olshan jumped on stage to join in the chorus.  The only problem was he was, well…. he was a little too happy at the moment to join in.  Right behind him was Javier Lazano, his wife, Nick Parker and his wife.  As soon as everyone hit the stage the band stopped playing and everything shut down.  Basically the MC said no fun was allowed and that everyone can't come up on stage and for everyone to get off the stage.  Ok, so maybe I broke it a little.  The band then restarted the song.  John Kellar and Jason Follas were in the back of the room dying laughing and thus John tweeted:

Very funny John!  Of course I didn't break it.  I guess the MC did.  Anyway.  It was a blast.  Here is the video of the performance after things got going again.  Enjoy.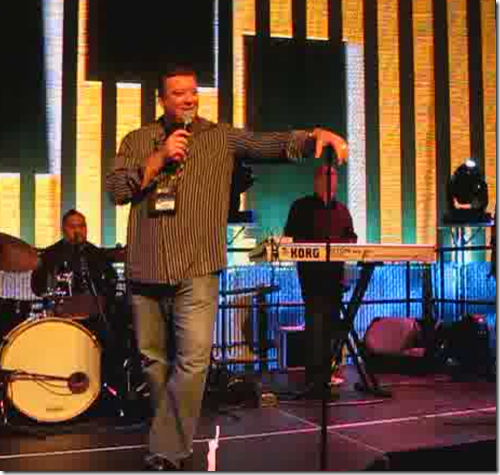 Silverlight Link to video: http://keithelder.net/videos/mvpsummit2008/default.html
Media:  http://keithelder.net/videos/mvpsummit2008/SongsOfWisdom.wmv