Posted by
Keith Elder

| Posted in Speaking | Posted on 10-05-2008
A few weeks ago I got an email from Jeff McWherter who runs the Greater Lansing .Net User Group they were going to have a Day of .Net event in June.  The email contained the normal type stuff you'd expect in an announcement for call to speakers.  Dates, times, location, etc.  but Jeff threw in a twist.  At the bottom of the email he listed drive times from the various locations to Lansing, MI.  At the bottom of it was Hattiesburg, MS.  Pretty funny!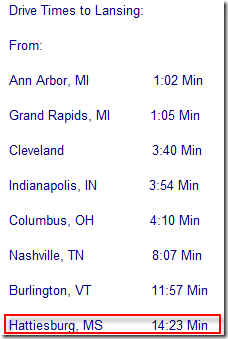 If you don't recall, Jeff and I rode with each other to CodeMash in January.  He was kind enough to give me a ride from company head quarters in Livonia, MI to CodeMash 2008 and back.  Great guy and if you attend different events around Michigan, Ohio, Tennessee, Indiana, Iowa, Vermont, and Timbuck Two you will probably run into Jeff.
Being 14 hours and 23 minutes away I knew I had no hope of going, but it was nice Jeff included me anyway.  After I got the email, Jeff pinged me in instant messenger and said, "Hey, I am going to try to find a way for you to come up, can you make it?".  I checked my schedule and the dates missed my anniversary and my birthday (never travel during those times, the Wife Approval Factor is very low). 
Jeff started passing the hat and beating the bushes and made it happen.  He broke the news to me yesterday.  Jeff, you are awesome!  Thus I am happy to announce I'll be joining everyone in Lansing, MI for the Day of .Net event on June 21st, 2008.  I have no idea what I'll be speaking on yet but it'll be something off my current list.
The last Day of .Net event I did was in Ann Arbor, MI last year so it has been  along time since I've done a Day of .Net event.  I am very much looking forward to seeing everyone there.