Posted by
Keith Elder

| Posted in PC Software | Posted on 11-05-2008
A new version of Witty Twitter has been published via ClickOnce (0.1.8.5).  You can install Witty Twitter by clicking the link below or if you already have it installed, simply launch it from your start menu.
http://keithelder.net/software/witty/witty.application
Witty Twitter Now With Skins
Witty Twitter now supports skins via ClickOnce updates.  Alan checked in the changes this morning around 6:33 AM CST and I picked them up, tested them, fixed some settings / app.config files and then made a new ClickOnce deployment.  Thank you Alan!
Right now there are only three skins:  Aero, AeroCompact and CoolBlue.  The majority of users will probably like the AeroCompact skin the most since it fits more tweets on the screen.  Here are the differences in the three skins. 
Aero
AeroCompact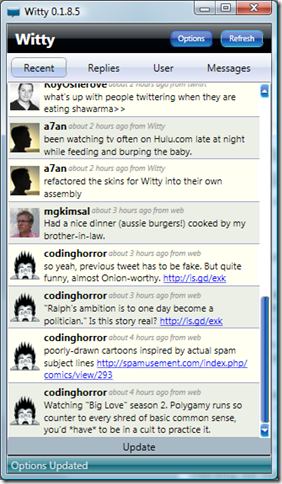 CoolBlue
To change skins click on options at the top of the application: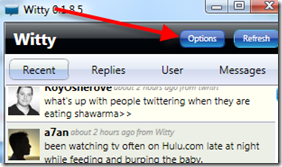 Click on the appearance button:

Select your desired skin: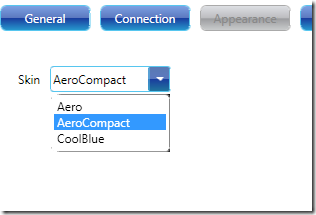 Enjoy and don't forget to thank Alan!