Posted by
Keith Elder

| Posted in Speaking | Posted on 19-06-2008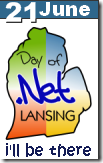 I'm packing right now to head to Detroit for the weekend as well as the better part of next week.  Tomorrow I will be traveling to Michigan.  I'll be landing in Detroit and then headed to Lansing, MI to meet up with the hosts of Lansing Day of .Net and other speakers.  Saturday I'll be speaking on "Structure and Guidance for Organizing Visual Studio Solutions". I'm pretty excited about this topic because it is one of those classic talks that never gets old.  I've had upwards of 10 people email me already saying they wanted to know more about that talk because they were not going to be able to attend the event.  I have the slides on my presentations section but they are WAY out of date.  I'll be updating the slide deck once it settles down. I'm constantly tweaking things and right now the slide deck is a serious moving target.  I also need to create a video that shows how this is done.  The slides are OK but until you watch it in person and learn all the tricks you may not get it.
Woody and I are planning on trying to record a podcast or two on Saturday if time and a great topic appears magically out of thin air.  No guarantees what we record will make the air but we at least want to try to record something since we'll both be there sporting our DFB t-shirts.  
Sunday I'll be back in Livonia.  I'll be in Livonia through Wednesday.  Thus if you are in the are and want to hang out, just let me know.  Text msg, twitter, smoke signal or whatever.  Now to finish packing (the worst part about traveling).