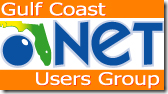 It has been about a year or more since Kevin asked me to come speak at the Gulf Coast .Net Users Group and I am happy to report that I will be there with bells on Thursday July 17th!  It took us a while to get things in order but I'm looking forward to traveling down.  The drive isn't that far and let's face it, who doesn't love a peaceful drive down the coast looking at sandy beaches and ocean water!?
That Thursday night I'll be speaking on Windows Communication Foundation entitled "Demystifying Windows Communication Foundation".  I may throw in a little Workflow Foundation love if time permits to show how WCF and WF are friends now within .Net 3.5. 
After the talk on Thursday, Kevin has promised to take me and Mrs. Dr. Elder deep sea fishing.  It is going to be a fun trip and I look forward to speaking in a new location and meeting some new people.  It has been too long since I've been to the Destin, FL area.  The last time I was in the area we went to the jazz festival in Pensacola.  I got so sun burned I spent 2 days sick in my dorm room after getting back.