Posted by
Keith Elder

| Posted in Funny Stuff | Posted on 11-07-2008
I just noticed something this morning. I have an infatuation with the word "bytes".  Yep. I just recognized that.  I had a #TwitterTribe member visiting from Tennessee last night and after we migrated to the computer we started talking about past blogs and other stuff.  We were discussing redirects and combining blogs and that's when I pulled up my old ZorKa blog (which isn't available for viewing anymore so no link).  After switching back and forth between my old site and this site I realized something that I hadn't noticed before.  My old blog title had the word "Bytes" in it and our new podcast has the word "Bytes" in it as well.
There is obviously something going on in the universe.  Coincidence?  I THINK NOT!
Previous Blog Name

Our Podcast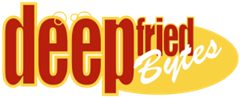 By the way, if you haven't listened to the show check it out!  http://deepfriedbytes.com.