Posted by
Keith Elder

| Posted in Man Toys | Posted on 23-07-2008
When we lived in Ann Arbor, MI several years ago, our apartment complex wouldn't let us use a charcoal grill.  Thus, we had to purchase a gas grill.  Being a charcoal guy I was incredibly disappointed.
Fast forward 6-7 years later our $119.00 Wal-mart special gas grill had seen its better days.  Out of gas and needing to replace the burners and more it was time to upgrade.
Using a birthday gift certificate from Sue (Ellen's mom) and some ad money from the blog I purchased the Brinkmann Profession Stainless Steel Charcoal Grill (model 810-3214-S) as the replacement.  That's right, charcoal!  I unboxed it last night and put it together on the deck.  I was a bit worried that putting it together was going to take a long time but it didn't.  Actually I cost myself about 15 minutes or more for not reading the manual.  I thought at first the unit was missing holes in the side of it but later realized I had to turn the pegs on the legs inward.  Here's a parts screen shot.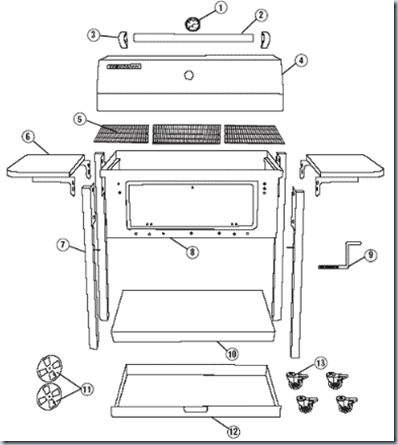 And the final product looks like this: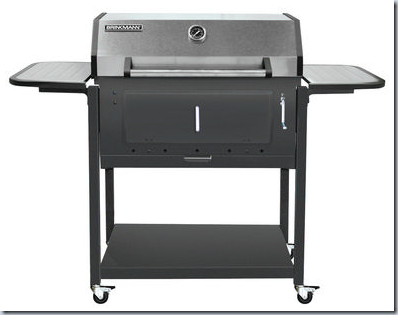 While this is nowhere near the most expensive grill on the planet it has some features that I really like about it:
It is stainless steel to minimize rust
It has 540 inches of cooking surface which will basically cook 75lbs of food.  Yeah I think that is plenty!
Porcelain coated iron cooking grills (minimizes rust)
Ability to adjust charcoal to different heights
Easy slide out charcoal tray
Built-in temperature gauge
All in all I'm satisfied with the quality and Brinkmann is known to make good products and the availability of parts is also a plus.  Tonight I'll be curing the grill which will take about 4 hours.  After that, it is BBQ time!