Posted by
Keith Elder

| Posted in Windows | Posted on 03-08-2008
I've been running Server 2008 as my main workstation for a few weeks now and so far so good.  The only thing I haven't found a solution for yet running the x64 version of Server 2008 is Windows Live Photo Gallery.  I have Live Writer and Messenger working, but cannot find a version of Windows Live Photo Gallery.  Live photo gallery has a really nice import feature that allows the timeframe to be adjusted when importing pictures as well as integration with Flickr.  Two very important features that make it a really nice app.  Beyond that I find the occasional thing I have to work around.  Tonight it was UPnP that wasn't working. 
I was setting up Windows Home Server this evening and noticed two different views when viewing the network.  From my wife's computer running Vista Ultimate it looked like this: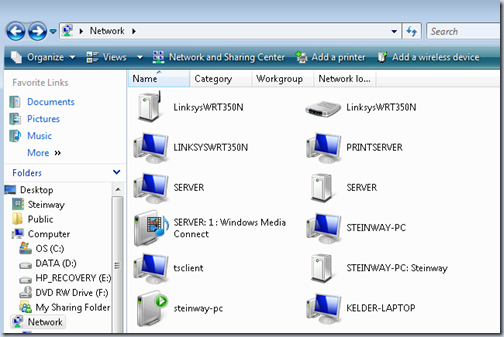 As you can see from above the devices that support UPnP show up nicely.  Specifically the home server for windows media and the router.
In Server 2008 it looked like this: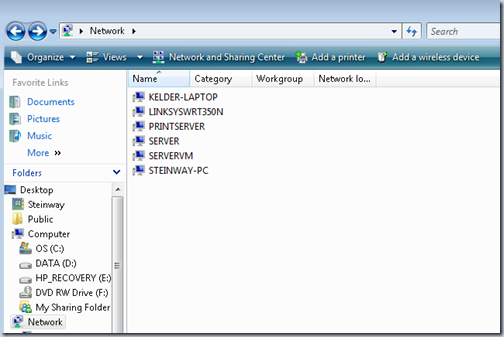 Yuck!  Definitely not as nice and it doesn't help managing UPnP devices either.  I started digging around and knew there was a service was that wasn't running but which one?  It turns out the one that needed to be enabled was the SSDP Discovery service.  To start this service press the windows key and type "services.msc".  Right click and run as administrator and start the service.  After the service is started refresh the network and the UPnP devices will show up.
I have an article that outlines how to setup Server 2008 for VMWare and basically I apply the same setup to configure 2008 as a workstation.  This is just another tip if you are going down this route.