Posted by
Keith Elder

| Posted in Windows | Posted on 08-08-2008
The Olympics are upon us!  I called myself preparing for the Olympics last night by installing Silverlight so I could watch the Oylympics via http://nbcolympics.com.  I'm running Server 2008 and I quickly ran into a problem.  The work around turned out to not be that difficult at all so here is a walk through.
Step 1
Save the Silverlight.exe to your hard drive. Although you can run it directly it doesn't work because of the default policy set on Server 2008.
Step 2
Right click the Siliverlight.exe and click "Run as administrator".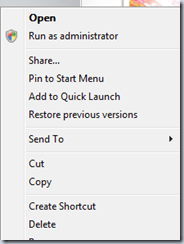 Step 3
Click Run.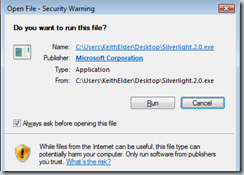 Step 4
Press Install.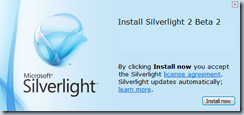 Step 5
Close the installation dialog.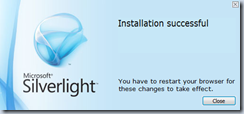 Step 6
The first time you visit a Silverlight site you'll be given a security prompt.  I suggest checking the box in the dialog so you don't get this again.