Posted by
Keith Elder

| Posted in Internet | Posted on 19-08-2008
I've been using Google News for a long time.  There  are lots of news sites out there that allow one to keep up with lots of news.  News.Yahoo.Com, CNN, and others come to mind.  For some reason I like the simplicity of Google News and the ability to create alerts on news items so I use it quiet a bit.  I'm not sure when the feature "Add Section" was added but it is a welcomed feature to site but here is how it works.
First visit http://news.google.com and be sure you are logged into your Google account.  On the left side of the page you should see this: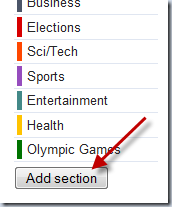 Clicking "Add Section" will bring up an overlay screen that allows you to pick content. 

For my first test I chose keywords and took a stab at the dark to see what something like our podcast would look like.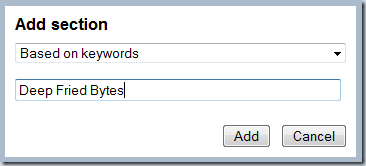 Unfortunately it didn't reveal any results.
I then tried a location and put in the zip code of my home town.
Within a second my home town appeared in the left navigation menu:

It is a pretty interesting feature but I have some problems with it.  If you add something to the site you appear to only have one chance at removing the item from your menu.  When you add a new item this shows up at the top of the page:

Once I clicked off this page, I have not been able to find any way to remove the news item I previously added.  That is a problem and can't believe something so trivial is missing. 
I was curious to see if what I had added would show up on the mobile version of the news site.  It doesn't.  Apparently they desktop version and mobile version do not tie into each other.
I like it when Google adds features to their product offerings, but they always seem to be half-baked, lacking features, and disconnected.  I just don't get why something as simple as removing a news section is so hard and tying in what I did on the desktop doesn't reflect on the mobile version.  For some reason Google can get away with lack of features yet other companies would be slammed for not having basic integration and basic features.  Google, just so you know, I'm not letting you off the hook.  I expect more from you.  Stop messing around and get your head on straight.