Update to latest version of Witty Twitter here:
http://keithelder.net/software/witty/witty.application
A new version of Witty Twitter was just published this morning, version 0.1.8.6.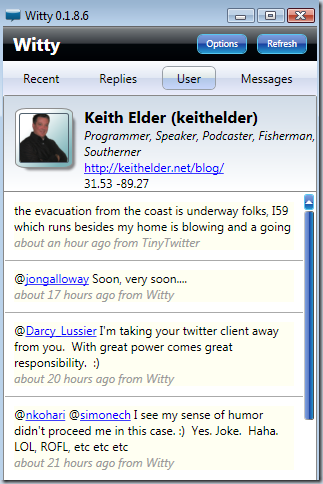 There aren't any major new features in this release but over the last several months there has been progress.  Here they are:

Witty supports Tourniquet which is a personal caching twitter proxy.  Tourniquet was written by the mad scientist Jason Follas.  Tourniquet solves a lot of the problems with Twitter being down and opens the door for a lot of other interesting things to happen.  Check out the project on Codeplex.
If you've ever been temporarily disconnected while Witty was it was running you've no doubt seen the error messages that Witty couldn't update itself.  Witty checks every hour to see if there are any updates in the background if and there is it prompts you to do an update.  The error message was removed from Witty so you should no longer see this.
Pop up notifications now appear on the first display not the second (yeah!). 
If you need to use Witty through a proxy the UI was fixed so when the application starts for the first time this can be entered.
Additional exceptions that might occur when Twitter would be down are now accounted for along with several other changes.
In no particular order, the developers that contributed since the last update of Witty was published:
Alan Le (project founder)
Scott Koon
Jon Galloway
Keith Elder
Paul White
Jason Follas
Thanks to everyone that contributed, keep 'em coming.
How To Update Witty
If Witty is running go into the options screen of Witty and click update.  It will download and restart Witty.
Click on the ClickOnce URL to install Witty if you've never installed it here:  http://keithelder.net/software/witty/witty.application
If you already have Witty installed and it isn't running, simply launch it, it should update.