Posted by
Keith Elder

| Posted in Podcast | Posted on 31-10-2008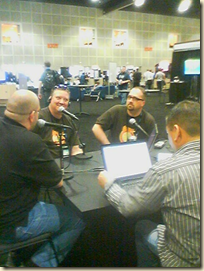 We had a blast recording live from PDC 2008!  We managed to get about nine podcasts recorded during PDC.  Now the hard part begins, the post production work! 
On the last day of PDC 2008 we rounded up all the podcasters we could find to do a round table discussion and recap PDC.  We recorded a show with Jeff Atwood of Stack Overflow and Jon Galloway, Scott Koon and Kevin Dente of Herding Code.  We'll be publishing this show first.  To cross pollinate our shows we'll be posting the show at the same time but will break up the show into multiple parts so everyone can share.   
Our good friend Laurel Ruma from O'Reilly took this picture of us recording a show with Oliver Sturm of DevExpress.  As you can see, we were right in the middle of expo recording.  We'll be doing a lot of post production work on the audio we recorded to make sure we remove as much background noise as possible but WOW did we record some great shows (and I'm not just saying that either). 
A big thanks go all of our guests and friends that stopped by to say hi. 
To see the line up of shows we've got coming out head over to our Up and Coming shows page here http://deepfriedbytes.com/up-and-coming/.
UPDATE
I found a picture Scott Koon took while we were recording the podcaster round table.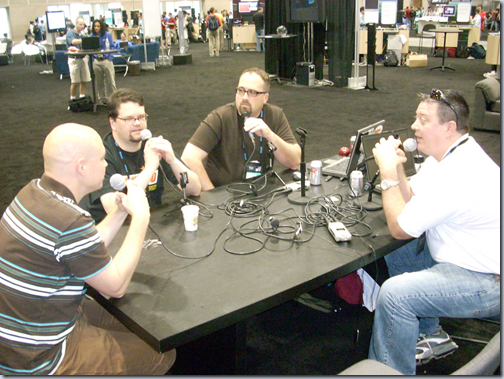 (left to right)
Jon Galloway (aka Mini-Jon), Jeff "Horror" Atwood, Chris "Woody" Woodruff, Me