Posted by
Keith Elder

| Posted in General, Podcast | Posted on 20-12-2008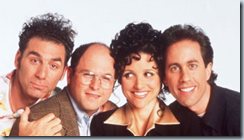 Have you ever felt like the world was moving at the speed of light, yet you were just doing your own thing?  That's how I've felt lately.  It seems everyone has tons of stuff to talk about on their blogs and Twitter.  I decided I was going to force myself to write a blog article this morning to start my Christmas vacation off and after thinking about what I was going to blog about it hit me.  I don't have anything to blog or twitter about!  Call it a Blog / Twitter Slump if you will.  Then I started writing and things started to flow so much that I broke this post into a series of blog posts entitled "A blog post about nothing", each one dealing with a different segment.
What's Happening With the Podcast
If you've been following along with the shows of Deep Fried Bytes, we are up to show #22 now.  And if you haven't been listening, then Santa has you on his naughty list and isn't going to come see you this year, but I digress.  Technically we should have produced show #24 by now but I have been traveling and getting ready for Christmas so not much time to do final production work although Woody has been staying ahead of me with his edits. 
Honestly, I never thought we'd make it this far with the show but we are starting to get into a groove with it.  We are working hard to tweak our post production work to make things sound as good as we can.  We've learned a lot over the past several months and continue to keep trying to get better.
To say having a podcast eats up a tremendous amount of time would be an understatement.  My co-worker beats me up all the time saying, "… you haven't blogged anything good in awhile…".  Which I then reply, "Well I blogged about the podcast that took 10 hours of work to create, that isn't enough?"  Of course he laughs and then says no, it doesn't count. 
It does take a lot of time to record, edit, finalize, mix down, normalize, compress, and then do final production work on the show.  The only thing that helps us to keep going is the community.  It is great when we are at an event and our listeners give us positive feedback.  Of course negative is good to hear as well since that makes us better, but knowing we are making a difference out there really matters. 
In community news, Deep Fried Bytes is an official sponsor of Codemash 2009.  Both Woody and I will be at Codemash 2009 and are planning on recording a lot of shows.   Anyone that wants to listen to us record a show live is welcome to sit in.  If nothing else it will give you an idea as to how much we have to edit out. 🙂
One of the things we watch closely on the podcast is our numbers.  We launched the show late in the 2nd quarter of this year and got off to a good start.  The 3rd quarter of this year broke all of our expectations and the 4th quarter this year has already beat the 3rd quarter.  The numbers for the show have grown each quarter and that is a good thing.  Especially in this economy.  Oh wait, we don't charge for the show, I forgot 🙂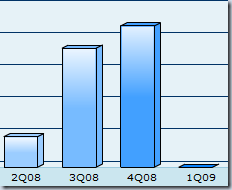 That means we are reaching more people and attracting new listeners.  A big thank you to everyone who has blogged, Twittered, Facebooked and whatever else you have done to help spread the word about the show.  We appreciate your efforts.
That's pretty much the latest news on the podcast.  As always, keep your tea glasses full, and your axes sharp.  Deep Fried… out.