Posted by
Keith Elder

| Posted in General | Posted on 31-12-2008
I'm not sure when it happened officially but I have never noticed until today.  I was looking a business up that I needed to go to during lunch and saw a street view on Google Maps.  I then checked a few other places and it seems most of Hattiesburg, MS is now covered on Street View.  I pulled up my house on street view and it appears they came by last fall, about a year ago.  I know this because the palm trees at the end of my driveway are now much bigger and have since been trimmed back.  I did that this summer. 
If you are coming to visit, now you know which house I am.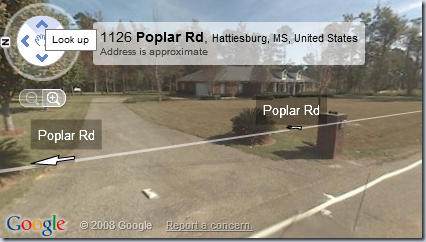 The accuracy isn't that good because we live at 1116 Poplar and this shows us as 1126, very wrong. 
I wished they would have come by a few months later when things were in bloom, the yard would have looked so much better.  Oh well.