The pressure mounts for me each year when April 1st rolls around.  Each year co-workers and friends start asking me days before April 1st what I'm going to do this year, like I would tell them!
To fresh your memory, last year I took a job at Apple.  And to top off that prank, at work there was a termination letter that was sent to all of Information Systems.  Not only were a lot of people at work gotten but last year's April Fools is still left in minds of many developers world wide like this tweet from Rick: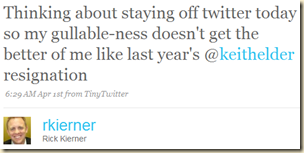 So what to do this year?  Well, this year we decided to get Deep Fried Bytes involved with the fun.  We created a show with a "Mystery Guest", and built up the hype around the guest.  To make things sound a little more real we threw in an announcement about the DevLink conference and awaited the arrival of our special guest, who, well never showed up.
We let the show's theme music play and play and play and play for almost 20 minutes.  Then we came back in at the end with a big APRIL FOOLS and apologized heavily to our loyal listeners. 
I'm happy everyone took it in good fun.  Here is some of the feedback we got:
All in all it was good fun and it seems most everyone took it in good stride.  One of my team members that works with me (Val) had listened to the show and decided to turn the tides.  I called him yesterday about 4:30 PM to discuss the days accomplishments and after I was on the phone with him for a few minutes I heard his phone ring and he said "can you hold on…this is someone very important I need to talk to?".  I said sure and then he started playing the show's theme music into the phone.  It was pretty funny. 
I hope you had a good April Fools and we'll see you next year.
If you want to listen to the show here's the link:
http://deepfriedbytes.com/news/episode-30-the-biggest-guest-in-the-world/