Posted by
Keith Elder

| Posted in Windows | Posted on 11-05-2009
I thought I had everything tested after my recently Windows 7 RC upgrade this weekend and was ready for work this morning.  One thing I didn't actually test was getting my work development VM on the Internet or VPN.  Turns out I had a problem with the network drivers in VMWare.
Here's the lovely error I got when I tried to enable the network card on the VM.
"The virtual network drivers on the host are incompatible with the installed VMWare application. Expected version 5. Please reinstall the product. Virtual device Ethernet0 will start disconnected."
This error was confusing since I didn't have version 5 installed.  I'll spare you the war story I went through to fix this and the countless reboots.  Here's the end to the means.  I downloaded VMware and told it to "Repair" the installation and then rebooted. 
Someone else had the same problem after a Vista to Windows 7 upgrade.  I tried the fixes listed in the thread below but they didn't work for me.
http://communities.vmware.com/thread/197009
Looking at the Network settings in Windows before and after the repair of VMware these two adapters were missing after the upgrade and then added back in during the repair.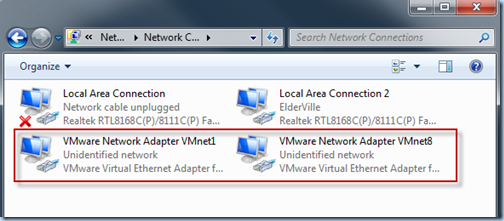 All is well and good now.