For years I've had two monitors on my computers.  Working at home every day in and day out has reminded me that two just isn't enough.  I find myself constantly flipping between windows and applications, especially since all the development I do is virtualized.  At work we recently upgraded the majority of our developers with new Core i7 machines with two 22inch LCDs.  Since I already had my own machine I asked if I could just get two of the new LCDs.  A few days later two new Dell 22inch LCDs showed up at my house. 
Planning for their arrival I found out we use Humanscale M7 monitor stands at work.  M7's aren't cheap retailing for about $500.00.  That was out of my price range to get all four LCDs setup.  After hours of digging around I finally found a quad LCD monitor arm I was comfortable purchasing and it was only $88.00!  Here's what I settled on:
The product is sold by Tyke Supply on Amazon and is manufactured by http://diwei.com/.  There really wasn't much to go on to decide if this product was going to hold up and be sturdy enough but I pulled the trigger.
When the product arrived the first thing I noticed was how heavy it was.  As soon as I unpacked it I realized I had a winner.  The arms of the unit are extremely well built, very heavy aluminum.  It even came with an alum wrench to tighten things down. 
One word of caution is make sure you have someone to help you setup the unit.  This is not a one man job as it takes one person to hold the screens while the other person tightens them down on the pole. 
I was extremely surprised how sturdy the unit is once installed.  It doesn't move once tightened down at all.  As long as you have a hang over on your desk you can install this unit.  As you can see below, it slid right onto my over hang.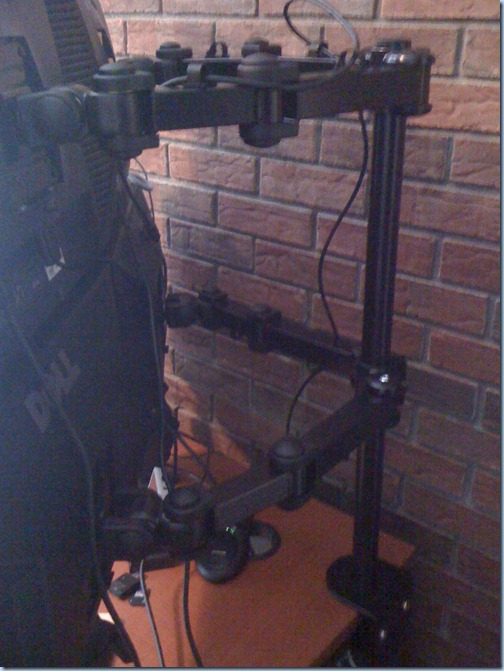 Windows 7 allowed me to easily configure the screens how I wanted them.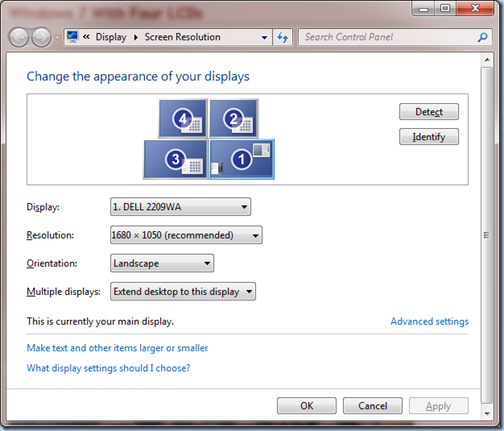 And of course, you have to see all of this screen real estate from the front or this blog post wouldn't be complete.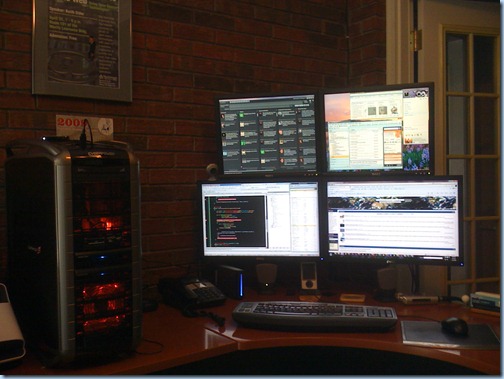 The two LCDs on top were my previous Dell 19inch LCDs I purchased from the Dell refurb store several years ago and the bottom two are the new Dell 22inch LCDs work sent me.  If you are curious as to what is where on all of the screens here is what is running where right now (subject to change):
Top Left – TweetDeck
Top Right – Windows 7 gadgets, live messenger, pandora, email
Bottom Left – VMWare Windows Server 2008 virtual machine (work)
Bottom Right – Browser, Explorer, FeedDemon, Live Writer

I've only had this configuration for a couple of days and with so many screens and windows open I can honestly say that the new features of split screens, Aero Peek and others in Windows 7 make it incredibly easy to get around.
I may have to cancel all future speaking engagements because I seriously don't want to leave my desk now.  🙂