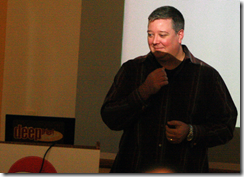 Last week I spoke in Ann Arbor, MI at the 5th anniversary of the Ann Arbor .NET Developers User Group (AADND).
We used to live in Ann Arbor, MI so it was great to get to go back and speak.  I got to see a lot of people I haven't seen in a long time and it WAS A BLAST. 
This all started a few months ago when Dennis Burton and Jay Harris of AADND emailed me asking me to speak.  This was a pretty easy decision, I was in and done.
Jay and Dennis did a fantastic job with this event as they gave away an XBox, an iPad (.NET devs are gadget geeks too) and had Chipotle instead of pizza.  Oh, and they had cup cakes which looked amazing but I didn't eat one since I am still on my low carb diet (19lbs and going).
The turn out was AMAZING to say the least as they had 78 people in attendance and it was standing room only in the back. 
As promised I am sharing out my slide deck from the evenings talk and also as a reminder I will be open sourcing the Nillius Filius project shown at the talk. I just have to finish getting everything transitioned.
Thanks to everyone who came out for the event!
Download the slide deck: BuildingNilliusFiliusInSilverlight.pdf