Posted by
Keith Elder

| Posted in For Sale | Posted on 24-02-2011
I bought this boat in Oct of 2009 and it has been a fantastic boat. Everything on it works and there is absolutely nothing wrong with it. I'm selling it because I fish 99.9% of the time and thus want more of a true fishing boat.
I bought this boat after searching for about a year and looking at all kinds of various layouts and designs. I was wanting a cross between a pontoon and a v-hull boat, something that was great for fishing and skiing. This is it. It is 10 times better than a pontoon ever thought about being and is so versatile on the water. The boat is technically called a "Deck Boat" but serves as a fish and ski boat. The best way to describe it is it is like having a v-hull pontoon. Lots of room, lots of storage and she'll fish one second and ski the next.
Price: $19,000
Features
Length: 19 feet
Beam: 8'6" (as wide as you can get on a boat and legally tow it)
Boat type: aluminum (yes, this boat is aluminum and not fiberglass, means it is lighter which gives better fuel economy and durability)
Boat Cover included: yes, has special cover factory made that snaps around the edges
Motor: 135HP Mercury Optimax (with new Cowling) and cover, this is a 2 stroke motor but don't let it fool you, it is VERY quiet, most people think it is a four stroke, it puts the boat on plane in just a few seconds, I just had motor serviced with new spark plugs, foot oil and water impeller, basically she is ready to go for the summer, gas tank is full and has always been treated with Seafoam
Top Speed: 40-42mph
Cruising Speed: 32 @4500 RPM
Prop: Stainless Steel
Max People: 10
Steering: Hydraulic
Tilt Steering: yes
Radio: Clarion (Sirius satellite ready)
Speakers: 4 (Sony 2-way brand new)
AMP: Rockford Fosgate (new)
iPod / Zune Capable: yes
GPS: Hummingbird 798SI (side imaging) (still have the box)
Front depth finder: yes, mounted on bottom of trolling motor
Raise/Lower motor from front: yes
Included GPS Maps: Southeastern US maps
Layout Deck: yes
Deck Seats: 2 (seats have slide out cup / bait holders)
Trolling Motor: 24volt (can be removed completely from boat for heavy skiing days for more room)
Coolers: 2 built-in on the front deck next to each deck chair (will hold 3 cases of can drinks on each side roughly)
Moveable Cup Holders: 2
Table: yes
Storage capacity: 65 cubic feet
Bimini Top: yes
Swim Ladder: yes
Livewell: yes
Bilge pump: 700gph
Custom rod holders: yes
Batteries: 3 (all are blue top Optima batteries, two are brand new as of November, have receipts still) Updated: 6.13.2011 – One of the trolling motor batteries stopped holding a charge, I just got it replaced on 6.12.2011
Perko Switch: yes, 24volt to 12volt converter that switches from the two trolling motor batteries to the main battery, perfect when anchored or trolling for a long time, run all electronics directly from trolling motor batteries
Ski Pole: yes
Trailer: Lowe, single axle with surge brakes, just had all lights checked out and new brakes put on as well as bearings/seals put in and the hubs repacked, hubs have bearing buddies for easy lubing, trailer also has new side rails, they were just installed with new carpet, I also bought 2 brand new heavy ply tires in May 2011, the spare tire wheel is brand new as well as the spare tire is only a year old
Manuals: I have a lot of paper work with this boat including manuals for the electronics, motor, etc. Very unusual to get this much paper work when buying a boat, but I have it.
Anchor: included
Life vests: not included but will negotiate if someone is interested
You can watch a video of the motor running here:
Listen to the motor running.
Here is a picture of the custom rod holders and the newly mounted GPS.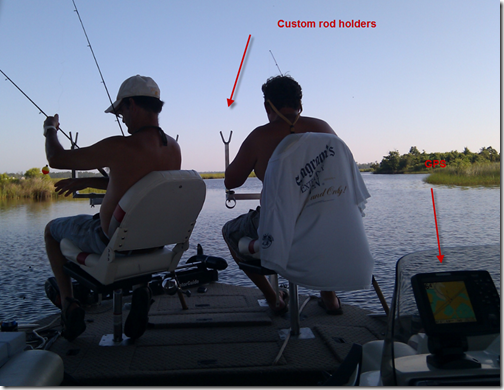 As if this wasn't enough there are a lot of pictures of the boat here:
http://www.flickr.com/photos/keithelder/sets/72157622466073769/
The boat has been kept in dry storage and has been recently serviced.
I will deliver the boat to an area within reason if needed.
Call 601.467.9744 if you are interested.