This past week I was at the BuildWindows conference where the wrapper was finally taken off of Windows 8. We've known for some time that Windows 8 was coming but we only had a few glimpses of the real story behind Windows 8. Tuesday we finally got to see the full details about Windows 8 and how big of a release this really is (bigger than Windows 95!).
The biggest news around Windows 8 was the announcement about the new touch first Metro desktop. This means Windows 8 will have count them *two* desktop modes. At first, like many, I had my concerns about it but it wasn't until I played with both the Samsung tablet given away at Build and playing with it at home on the metal of a notebook I have that I can put into a docking station allowing me to use it with dual screens that I started to get excited. I'll try to explain so bear with me, this is going to be a long post.
If you haven't seen the new desktop and how it works I invite you to watch this presentation by Jensen Harris that was given at Build entitled: 8 traits of great Metro style apps.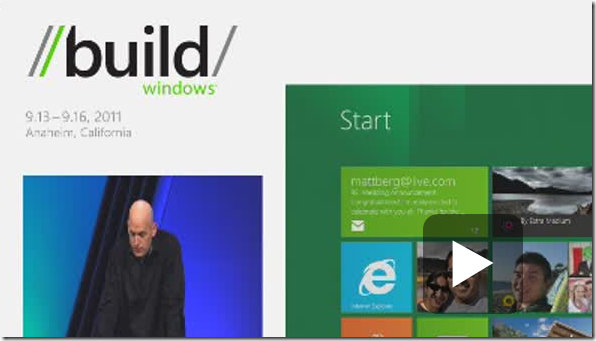 The PC Isn't Dead
There have been many articles about how the PC is dead in the news lately. These articles in my opinion are just bogus crap articles spurred on by the press to have something to write about. When the press has lulls in news they have to sit around and speculate what's happening and thus we get articles about how the PC is dead and how we are all going to be walking around in a world with these consumption devices (tablets and phones). What they fail to think about is that *someone* (you and me) at some point has to produce information for these devices to consume.
FACT: It takes longer to produce information than consume it.
Thus given the old saying of "use the right tool for the right job" why would anyone think the greatest device known to man at producing, consuming and creating information, the PC, is dead? Simple, it is called money. That's because they get paid to write these articles and speculate.
So, the PC isn't dead. This is a fact. Don't argue against me, you'll lose. It is going to be around for a long time. Here's the kicker though… it is going to just look different thanks to Windows 8.
Consuming and Producing Information With One OS
As I see it, there are mainly two different modes we use information. We are either consuming information or we are producing information. It turns out the absolute best device for doing both of these is still the PC (you know that thing that isn't dead?).  If anything, the PC it is about to undergo a major revolution. And by revolution I mean the hardware is going to change as we know it today. Me personally I fully welcome this change and here's why.
The past week at the Build conference I spent the majority of my time consuming information. I did so on two devices: iPad and phone. The times I had to produce small amounts of information via tweets, text messages or quick responses to email these devices worked. Notice I used the phrase "small amount of information".  This is key because once we move past producing a small amount of information these devices fail.
Have you ever received an email on either your phone or tablet where you told yourself, "I'll answer that later"? I bet everyone has. Why? Because these devices are information consumption devices. Let's face it, when we have to do real work these devices fail. I don't know how fast you can type but I can pump out upwards of 140 words a minute. Now why in the world would I want to use touch type to type say 25 words a minute? My time is valuable and thus when I have to produce more information (like a blog post) that requires more typing I'm not going to do it on a consumption device (tablet, iPad, etc).
The reason Windows 8 is such a game changer is it is going to allow all of us to consume information and produce information on the same device.
Windows 8 is like a Transformer. It can transform to consuming information to also producing information.
Windows 8 The Transformer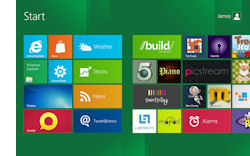 What does Windows 8 have that changes this? For starters it has a touch first interface. This new interface (pictured to the left) is really the the consumption interface. Microsoft calls it the Metro interface. But the standard desktop interface is there as well, what myself and others have coined as the Retro interface. Or as I like to call it, the desktop where information is produced or created.
The Metro interface is immersive, full screen apps, full touch enabled, and as Microsoft calls it *fluid*. For tablet and slates this new interface is going to serve us all very well once developers start filling up the store with awesome applications.
The Retro interface is what we are accustomed to in Windows 7 today. Nothing has changed there except we've gotten a lot of new enhancements. Windows 8 builds on top of Windows 7 and just makes things better with new features like:
New ribbon added to Windows Explorer
Ability to mount ISO files natively (yeah for developers)
Hyper V
New taskbar features (unique taskbars per screen)
and many more
Being able to switch between these different modes is powerful. Switching between the two is easy and very smooth just by pressing the "Windows" key on the keyboard. Or the "Windows" button if you have a tablet.
By having both a touch first user experience and the full desktop this allows the user to transform the operating system to meet the various requirements how the user wants to interact with information.
Apple for example has a desktop OS and they have an OS that runs their iPad/iPhone. When you've hit the point to where you need to produce information instead of consume it one has to set their iPad down and reach for their notebook or PC. This is something I think Microsoft has gotten right by simply just using Windows 8 to do it all. Think about it for a minute. Think about how the Enterprise today provisions and manages iPads or Android tablets? They sort of don't. By leveraging Windows, Microsoft has just put tablets and slates into the Enterprise so all of the tools of deployment, management, etc can be leveraged (bitlocker, roaming, active directory credentials, etc). Remember your tablet is just Windows! Brilliant! Folks this is a game changer, make no mistake about it.
With Windows 8 the hardware revolution that is coming is going to change things as we know it today. I see a day when we won't have a desktop at home to get multiple screens, and a notebook to carry with us, and a tablet to carry with us. I see all of these devices converging into one simple and easy to use PC, I mean tablet, I mean slate, I mean notebook. Someone will create a new name for it. Something like… SlateBook (remember you read that here first!

).
We already sort of got a hint of this from Samsung with the tablet they gave attendees at Build. It came with a docking station and a keyboard. This allows everyone to interact with the machine normally on the retro desktop. But it also is a tablet that can be removed from the docking station and used as more of an information consumption device leveraging touch.
The PC isn't dead, the devices will just transform for the user as they need it to. And Windows 8 is the OS that is going to make that possible.
My Perfect Windows 8 Computer
I've thought about this a lot over the past week and I've researched a lot of devices as of the past week trying to find something I could maybe even potentially purchase to run Windows 8 that would transform if you will. I'm saddened to say that I haven't found anything *yet*.
My perfect Windows 8 computer is going to have the following characteristics:
Be easily dockable so it can be used at home where all of my peripherals will plug into it (multiple monitors, speakers, keyboard, mouse, etc)
Be powerful enough to run as a desktop but also not consume a lot of battery life
Be thin enough that I can remove it from the docking station and carry it with me
Easily transform into an information consumption device
Easily transform into an information producing device
Yes I want my cake and eat it too but I am tired of having three devices to do three different things. As I see it, Windows 8 will allow us to embrace a new hardware revolution where these devices converge into a single power device. It will in fact be a PC (personal computer) but it will be also a tablet for consumption and support full keyboard and mouse to switch between consumption to information producing.
Right now my perfect device would be an ultra thin notebook like the Asus UX21 that would also have a touch screen that can be transformed into a slate / tablet.
Now I'm not saying that there will not be a lot of just tablets created and sold. I am sure there will be. But from where I'm sitting I'm honestly tired of tablets, and notebooks, and really not having my full computing experience with me wherever I go. Yes I want my cake and want to eat it too.
If the OEMs can get the hardware right Windows 8 I predict is going to start a new hardware revolution whereby consumers can purchase one device that does it all. Will they be cheap? Probably not but honestly who cares! Would you rather carry one device with you everywhere or three?
One? Good glad we agree.