Posted by
Keith Elder

| Posted in Quicken Loans | Posted on 23-09-2011

That's right, at Quicken Loans we have over 150+ Information Technology positions open! If you've been looking for a career at one of THE top companies to work for in the country (this is not hearsay this is a fact, we rank in the top companies to work for each and every year) with an awesome culture then I want you to send me your resume and apply.
How To Apply
The way you get your name in the door is through ME. We are really big on referrals from team members and anyone that is referred from an existing team member (in this case me) will get considered. In other words you won't be lost in the masses.
Once you are ready to apply simply email me at: keithelder at quickenloans.com
Include in your email which positions you are interested in and of course your resume.  I will take it from there. Referrals move pretty quickly so be prepared to talk to someone at our company very soon!
How NOT To Apply
We have a careers web site, actually a really good one. I do encourage you to review it as it contains tons of information that I don't need to review here. But do NOT enter your information into the careers web site. We get thousands of submissions and they are very hard to sift through. You know how it is, every person in college getting out applies as well as what I call career jumpers (those that work in a place for a year and then want to jump somewhere else just to make more money). If you are a jumper, sorry but I am not interested in reviewing your information. Think of this move as the last job you'll have and retire. We have extremely low turn over and very career focused individuals, that's who we are looking for.
What Makes Quicken Loans So Cool
I thought about this for awhile and I could talk about the many benefits and perks we have but honestly you can read about that on our BENEFITS & PERKS page on our careers web site. I thought I'd focus on things you won't find on our careers web site.
The first one is our people. Everyone company has people in it but I honestly believe we have some of the best and brightest minds in the industry. These are people you'll work with but you'll also play with. The jobs I've enjoyed the least over the years were because of the people. At Quicken Loans many of my team members are my friends. We go on fishing trips, sporting events, camping trips, and many other things including social outings and much more. Not only will you work with great people but you'd also find some of your best friends in life. Working in a place where you WANT to hang out after work with the people you work with is just awesome. It really speaks to what great people we have at Quicken Loans.
Bullet Time as we call it something you won't find in a lot of companies. Every Monday starting at lunch all of IT (and I mean everyone) stops working on core business efforts and gets together to work on whatever they want. Bullet Time = Innovation Time.
This innovation time means you can play with whatever you want. Have a technology you've been wanting to explore? Go for it. Have an idea for an application you've been working on that doesn't get priority? Go for it. We are all about innovation and because all of IT is involved at the same time no one feels guilty about working on something out of the box and it makes it easy to find other resources you may need to get behind your idea. Ever since we started bullet time amazing things have happened in our business that would have never even been given the time of day. Bullet Time = Awesome.
Beyond people and bullet time you'll be given access to all of the tools you need to complete your job. If you are a .NET developer you'll get an MSDN Ultimate license to get everything you need. Everyone gets new state of the art hardware with minimally two screens.
Our head quarters in downtown Detroit is nothing but short of amazing. Onsite gym, dry cleaning, free cappuccino, slushies, popcorn, onsite Hard Rock Café and an awesome cafeteria.
Finally I'll mention that you can set your own career path. Working for Quicken Loans is truly what you want to make out of it. And it is completely unique as we have a family of companies. There are always new opportunities not only within Quicken Loans but many of our team members have gone into other companies within our family.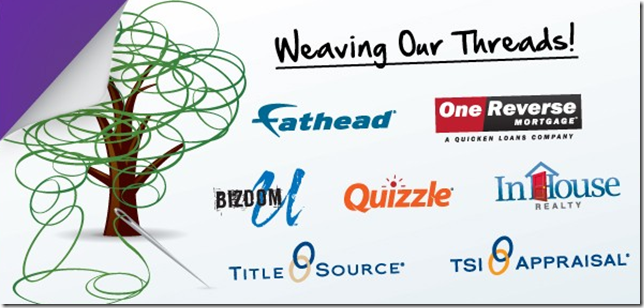 All of our family of companies are connected and once you are in the family you'll always be presented with opportunity. Just be yourself, be awesome, and opportunity will come your way.
Our Culture
I get asked a lot to describe our culture at Quicken Loans and I think this picture represents it the best. It is very flat.

I think we've worked hard over the years to keep it flat. Flat means you don't have to go through 15 team members just to get a decision done. To explain this in geek speak, there are NO TPS reports! Our culture thrives on simplicity. As a matter of fact our culture is founded on simple principles we call ISMs. These ISMs are who we are and drive all of our daily decisions when at work. Our ISMs are everywhere throughout our company from the top to the bottom. We live by these principles and they are constantly in the back of our minds.
I invite you to read more about our culture on our careers web site: http://quickenloanscareers.com/about/culture/
Positions We Have Open
Ok, now to the positions we have open. Again we have 80+ and they are literally across the board. Again you can find more specifics about these on the careers site. After reviewing that information, email me if you are interested.
.NET Developer
Application Engineer
Business Analyst
Business Intelligence Business Anayst
Data Analyst
Data Warehouse Engineer
Messaging Systems Engineer
Project Manager
SharePoint Developer
Software Developer/Business Intelligence Engineer
Software Quality Assurance Engineer (QA)
SQL DBA
Statistical Analyst/Data Modeler
Windows System Engineer
UNIX Engineer
VMWare Engineer
Network Engineer
Ready to work for an awesome company that is Engineered to Amaze? I hope so and I look forward to hearing from you.