Posted by
Keith Elder

| Posted in Man Toys | Posted on 02-09-2006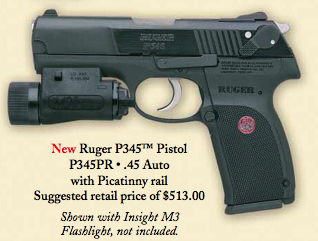 After paying my Jeep off last week I had some extra cash to get something I have been wanting to get for a long time and that is a self defense pistol. After looking, thinking, researching, reading, talking to friends and getting everyone's input under the sun, I finally decided on the Ruger .45. While no one person recommended this particular model, the reviews on it were great and it had a lot of safety features I wanted. I picked the gun up at a local store in Hattiesburg called Big Buck Sports. I had visited the store about 5 times before making a purchase and each time I went into the store, I dealt with the same kind gentleman at the store. His patience with me, my questions and his immense knowledge is what kept me coming back. Before purchasing the Ruger I probably looked at over 100 different types of pistols at various merchants and gun shows. I looked at Glocks, Sig Sauer, CZ, S&W, FNH and more. Each one I looked at was either priced really high, didn't offer single and double action, didn't have the safety features I wanted or were really big and bulky. I was looking at either .40 or .45 caliber and depending on the gun I found is what I would wind up with. One thing that everyone told me that I talked to was either to purchase a .40 or a .45. The .40 has more velocity and is considered to offer a great combination of knock down power, velocity and less recoil. However, the .45 offers more knock down and stopping power. After arriving at Big Bucks yesterday evening I walked up to the counter and started searching the counter for new guns that may have come in. I didn't notice the Ruger at first but it wasn't long until the sales associate pointed out they had just gotten it in the day earlier. Upon picking up the P345, it immediately felt as if I was picking up a pistol I had owned for several years. The grips just felt natural and were fitted to fit my larger hands. The size of the P345 is even great for a conceal and carry weapon as well. It isn't as big as other .45's (which was one reason I hadn't initially settled on purchasing a .45). After investigating the pistol things really started to shine about the P345. For starters there are four safety features on the gun. More than any other .40 or .45 I had looked at. Here they are:
Ambidextrous safety – The safety is located on both the left and right side of the gun. I'm right handed so having it on both sides doesn't really matter to me, however, the location of it is natural and easily excessible with the thumb. It feels very easy to pull out of a holster and flip it off.
Unobtrusive safety lock – On the right side of the gun, when you put the safety on there is a whole whereby you can take the lock provided by Ruger in the case and lock the safety on the gun. There is no way to fire the gun at all once it is locked.
Chamber loaded indicator – On the top of the barrel there is a loaded indicator that rises once a bullet is in the chamber. This is a great safety feature which provides a quick and easy way to know if the gun is loaded. And not all guns have this type of indicator but you see it a lot on Rugers and I like it a lot.
Magazine disconnect safety – This feature seems to be controversial among different gun owners but one that is admired by those in law enforcement. If the magazine is dropped out of the gun, the gun will not fire at all, even if a round is in the chamber. The gun functions as normal but just doesn't fire. For those in law enforcement this is a welcomed feature. If the officer is about to loose control of his gun, he can eject the magazine and render the gun useless.
Safety Lock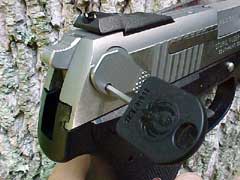 As you can see, Ruger has put a lot of safety features into this gun. The size, safety features, and the price of $419.00 (less than a truck payment) is what put me over the top to purchase this model. Most everyone that has a self defense gun agrees that an unloaded gun is a useless gun. Being able to keep the gun loaded while still maintaining safety is important to me and the Ruger makes that possible. So far I've only put one round through it but the trigger pull was smooth and not heavy. The recoil was very manageable as well. All in all I'm very pleased with the quality, price, and saftey features of the gun and would recommend it to anyone that is looking for a self defense pistol.