Posted by
Keith Elder

| Posted in Internet | Posted on 11-12-2007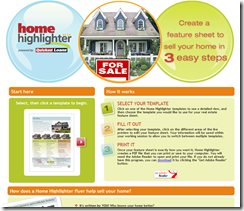 One of the toughest things about owning a home is selling it.  Home owners are tasked with a mountain of things when preparing to sale their home.  Recently we launched a beta product to assist home owners with one of those task.  The product is called Home Highlighter and provides home owners the ability to build their feature sheets right from the web site complete with multiple templates and mortgage pricing information.  It is has become more main stream for home owners to create feature sheets that allow buyers to drive up to their home and grab detailed information.  Feature sheets can range from a single sheet to detailed books depending on the effort put in by the seller.  Home Highlighter helps home owners quickly and easily show case their home.
How to use Home Highlighter
Step 1 – Choose a Template

The first step getting started with Home Highlighter is to select a template.   Clicking step one will provide a screen whereby two different templates can be selected by pressing the left and right arrows.   Example: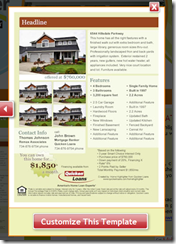 Currently there are two templates to choose from.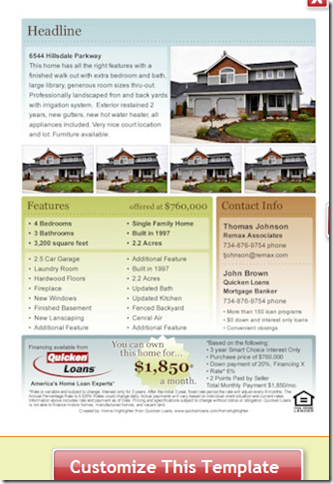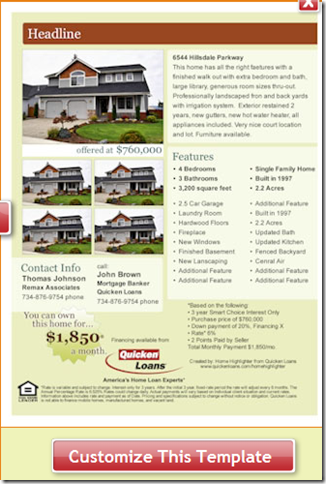 To move forward click on the "Customized This Template" button to move to step two.
Step 2 – Fill In Your Details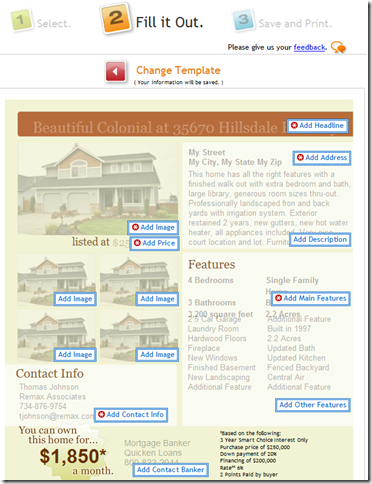 Click each of the areas to upload images and set the features of your home.  The monthly payment is calculated automatically based on current interest rates and fixed pricing.  This is used to show prospective buyers how affordable the home can be.
Step 3 – Save and Print
Once all of your information is entered you can preview the information and save it.  Once saved you can then preview your generated PDF and print as many copies as you want.  I've attached the one I created if I was going to sale our home which you can download below. 
That's it.  Three simple steps to creating a professional feature sheet the next time you sale your home.  If you have any feedback please use the feedback link located within the Home Highlighter web site.